As The World Turns: The Complete Family Scrapbook by Julie Poll
My rating: 4 of 5 stars
Review
Next to Guiding Light, As The World Turns (ATWT) was my favorite soap opera in the 90's and early 2000's. I stopped watching ATWT around 2007, as I couldn't keep up with 4 of them… and focused only on GL.
But ATWT was a great show, and when Julie Poll published this scrapbook, I had to have it! It chronicled so much of the past in the 1950s thru the 1980s when I wasn't really alive to watch it. I read a lot in magazines and on the internet, but having a whole book dedicated to it was amazing.
If you're a fan of the show, it's a great way to stay connected, and even learn new things. If you're not, but you love family drama and genealogy, it's also a cool way to study as much as possible. And then maybe you can watch old episodes on Youtube.
It can easily be read all in one setting — lots of great pictures. But you can also read section by section over a few weeks or months, stretching out the fun.
And I would love to try a telenovela after all this!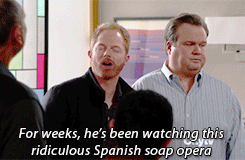 About Me
For those new to me or my reviews… here's the scoop: I read A LOT. I write A LOT. And now I blog A LOT. First the book review goes on Goodreads, and then I send it on over to my WordPress blog at https://thisismytruthnow.com, where you'll also find TV & Film reviews, the revealing and introspective 365 Daily Challenge and lots of blogging about places I've visited all over the world. And you can find all my social media profiles to get the details on the who/what/when/where and my pictures. Leave a comment and let me know what you think. Vote in the poll and ratings. Thanks for stopping by. Note: All written content is my original creation and copyrighted to me, but the graphics and images were linked from other sites and belong to them. Many thanks to their original creators.