Review
4+ of 5 stars to Eileen Christelow's children's story Five Little Monkeys Jumping on the Bed, one of a bunch in a series about little monkeys and their crazy antics. This wonderful little book wasn't published until I was around ten years old, but I still read it one summer in a reading contest held at my library every year. I was so excited to pick out new books… sometimes children's books meant for kids younger than me, sometimes books meant for older kids… and by 12, I was reading the Scarpetta series about serial killers. What eclectic taste even at a young age!
Who would not adore these monkeys? I remember being called a little monkey when I was a youngin'. And I call my cousin's and friend's kids little monkeys now whenever I'm around them. But this one was the best in the series, at least in my opinion… they were jumping on a bed. And Momma Monkey just couldn't control them… but when they got hurt, they learned their lessons.
It's books like this that help make or break a child's interest in reading. If you take the time and read the story over and over again… kids learn what it means to tell a story, to write a rhyme, to sing along, to behave, to listen, to see what happens in a book series over the course of a character's journey… and this one is all about the numbers… and the countdown… 5, 4, 3, 2 and 1. Where'd all my monkeys go????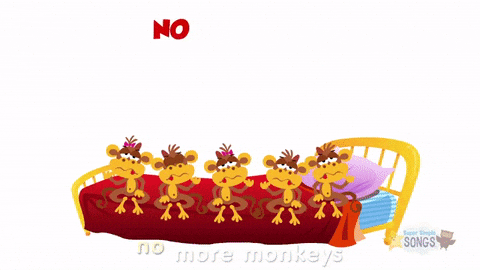 Writing this review makes me smile… I might have to go to the library this weekend just to re-read a copy of this one again. 🙂
About Me
For those new to me or my reviews… here's the scoop: I read A LOT. I write A LOT. And now I blog A LOT. First the book review goes on Goodreads, and then I send it on over to my WordPress blog at https://thisismytruthnow.com, where you'll also find TV & Film reviews, the revealing and introspective 365 Daily Challenge and lots of blogging about places I've visited all over the world. And you can find all my social media profiles to get the details on the who/what/when/where and my pictures. Leave a comment and let me know what you think. Vote in the poll and ratings. Thanks for stopping by. Note: All written content is my original creation and copyrighted to me, but the graphics and images were linked from other sites and belong to them. Many thanks to their original creators.