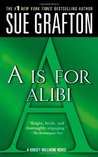 My rating: 4 of 5 stars to A is for Alibi by Sue Grafton, the first book in the Kinsey Millhone private investigator cozy mystery series. It's the book that started it all for me…
The opening lines of the book grab you when the narrator tells you that she killed a man. You want to know more about this situation. Then you get to know a little bit about Kinsey. Twice-divorced. 32. New to PI work. You already start to root for her as much as you ask questions about her former life.
In this one, it's all about divorce and a cheating ex-husband. Nikki, not very likable, is released from prison and goes straight to Kinsey for help. She served time for killing her husband, but she claims she didn't do it. Years later, she wants answers so she can move on with her life. And she gets them. Kinsey finds a second body and actually has to protect herself. Right out of the gate, you know this series won't be a traditional cozy. But at the same time, it's a very formulaic story. And that's OK… I like those, too.
Kinsey is mostly a good character. Her attitude is sometimes a little annoying. She is still learning her job to some degree… not quite as good as VI Warshawski, but not as silly as Stephanie Plum. Lots to like about her too… except no real family to speak of. She eventually has Henry, but not enough for me.
The setting is Santa Teresa, California… a beautiful place among the vineyards and not too far from the ocean. Makes a good backdrop and some pretty scenes.
For an intro book, it's strong. It was started back in the 1980s… so if you're looking for something more current, this series isn't for you.
About Me
For those new to me or my reviews… here's the scoop: I read A LOT. I write A LOT. And now I blog A LOT. First the book review goes on Goodreads, and then I send it on over to my WordPress blog at https://thisismytruthnow.com, where you'll also find TV & Film reviews, the revealing and introspective 365 Daily Challenge and lots of blogging about places I've visited all over the world. And you can find all my social media profiles to get the details on the who/what/when/where and my pictures. Leave a comment and let me know what you think. Vote in the poll and ratings. Thanks for stopping by. Note: All written content is my original creation and copyrighted to me, but the graphics and images were linked from other sites and belong to them. Many thanks to their original creators.