Book Review
Everyone's heard of SEUSS (Dr) (I hope). 4 stars to The Cat in the Hat, an adorable children's book full of little amusing pictures and rhymes.
Kids love the absurdity. It's an opportunity for the reader to use different voices… to dress up… to be free and fun and just enjoy reading.
Though it could be used as a way to teach kids about rhymes, as well as what's real and not real… my recommendation with this one is to just HAVE FUN! Act out all the scenes. Make it a fun Saturday experience with your kids, friends, nephews, nieces, cousins.
Teach kids to enjoy reading.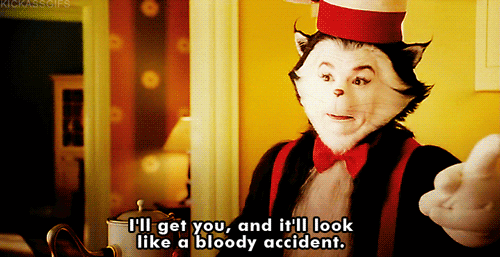 About Me
For those new to me or my reviews… here's the scoop: I read A LOT. I write A LOT. And now I blog A LOT. First the book review goes on Goodreads, and then I send it on over to my WordPress blog at https://thisismytruthnow.com, where you'll also find TV & Film reviews, the revealing and introspective 365 Daily Challenge and lots of blogging about places I've visited all over the world. And you can find all my social media profiles to get the details on the who/what/when/where and my pictures. Leave a comment and let me know what you think. Vote in the poll and ratings. Thanks for stopping by. Note: All written content is my original creation and copyrighted to me, but the graphics and images were linked from other sites and belong to them. Many thanks to their original creators.