5 of 5 stars to the first season of Feud, a TV drama series produced by Ryan Murphy that began airing season one in 2017, focusing on the famous feud between Bette Davis and Joan Crawford from the 1950s thru the 1970s. Season 2 has already been approved for 2018, and it will focus on the feud between Prince Charles and Princess Diana in the 1980s and 1990s. How could you not want to watch this amazing show?
Why This Show?
I am a big fan of Ryan Murphy's TV Shows. I first watched Nip/Tuck, then Glee, followed by The New Normal. He got a little quiet for a while, but then came back with a few amazing shows in a row: American Horror Story and Scream Queens. But then he produced Feud. I couldn't say no!
I've seen a few Bette Davis and Joan Crawford movies, stimulating some interest in how Murphy would portray their feud. I wasn't alive when they had their disagreements, nor had I seen too many older movies, but I thought this would be a great way to immerse myself in their culture.
I enjoy Susan Sarandon and Jessica Lange in almost anything they've previously been in. How could I not give it a chance?
The significant other really wanted to watch it… again, how could I say no?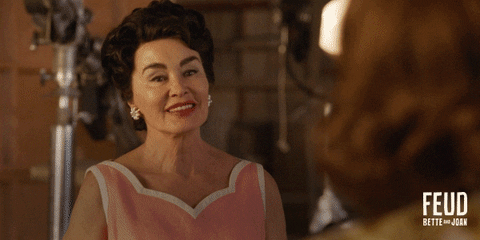 Show Overview
Eight (8) episodes on the FX network in March and April, 2017. Each were about 1 hour long, starting with the pitch for "Whatever Happened to Baby Jane?" and ending with the death of both women.
Joan Crawford and Bette Davis are the primary focus of the show. You see Bette's relationship with two of her daughters, and you see Joan's relationship with two of her daughters. There is very little concerning the early years of Joan's life, and Murphy avoided the entire story involving Christina, which was later a book and movie about Joan's abilities as a mother.
The show also has several side stories concerning:

Aldrich's wife, affairs and their divorce
The assistant's drive to be her own director
Victor Buono's "hidden" homosexuality
The Warner brothers fame and fortune
Hedda Hopper's cancer
Mamacita's nearly heroic efforts to support Joan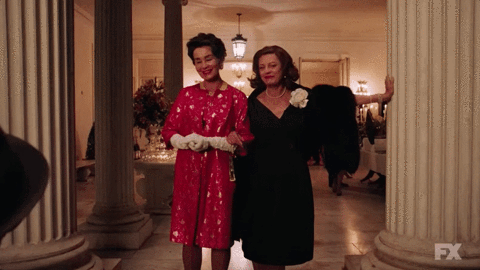 Notable Stars
MY FAVORITE (in this show)

This is so tough… Both Susan Sarandon and Jessica Lange were amazing. I think Sarandon has the slight edge, simply because she plays a bit of a different character for me, whereas Lange's portrayal reminds me of a few other characters she's brilliantly played before. That said, I am including both here.
Susan Sarandon had some moments worth of an Oscar. She nailed Bette in so many scenes. There were also a few with a bit too much of an edge in the performance, but still memorable. Always with a cigarette in her hand, the accent was critical to show us the Bette we all love. Sarandon held nothing back, always a spit fire — she lit every seen with her expressions, eyes and anger.
Jessica Lange's bitter misery with Joan's life was evident at every moment of her performance. When she cried, you almost wanted to laugh at her… not because it was poor acting, but because she truly made Crawford a flawed character who couldn't ever see beyond her own opinions. With age, she mellowed a bit, but never could she see the error of her ways. She may have had a tough life, but she was way too pushy in some aspects. For Lange to get this across was amazing!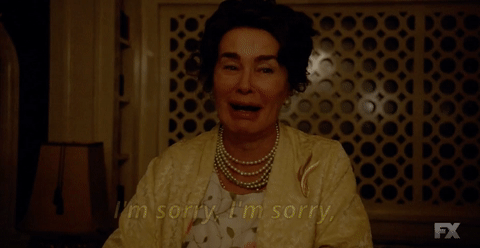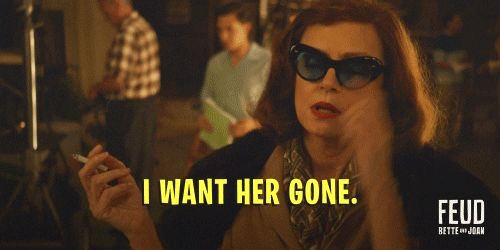 OTHERS

Judy Davis plays Hedda Hopper, a vicious columnist and reporter known to go after the stars with a vengeance. She had some really strong and tender scenes where I didn't know if she was speaking a brilliant truth, or just being a bitch!
Jackie Hoffmann plays Mamacita, Joan's maid and personal assistant. Her accent is hilarious,  but she's got a very strong role as a supporting cast member in this one.
Alfred Molina plays Robert Aldrich, their director. He is married, but seems to forget it from time to time. His marriage is a key point during a few of the episodes, helping provide some much needed reality for life of the "middle-class" housewife during the 60s.
Stanley Tucci plays Jack Warner, the owner of Warner Brothers Studios, who bankrolls the pictures that the women star in. His character was such an ass!!! But the acting was great.
Alison Wright plays Pauline, a fictional character portraying the director's assistant, but she wants to direct her own films. She's a compilation of several people from real-life at the time. She has several great scenes, helping provide some depth and humor, outside the feud between the two other women.
Catherine Zeta-Jones plays Olivia de Havilland, an actress working in other films with both women. She's closer to Bette Davis, and ultimately takes Joan's place in "Hush, Hush… Sweet Charlotte." She's good, nothing too special tho.
Kathy Bates plays Joan Blondell, a similar-type actress during their generation. She provides commentary about Joan after she's passed away. Fine performance, nothing special.
Kiernan Shipka plays Bette's daughter, fighting with her mother the entire time. Typical character you've seen her play elsewhere… best known for her work as the daughter on MadMen.
Tons of other stars, but those are the major ones.
The Good and The Bad
The set re-creations were phenomenal. Winston had a book about Joan's NYC apartment and looked it up… they nailed the interior.
They took a few liberties with the timing on events and some exaggeration in a few areas. Looked up a few of the realities and facts to compare. Nothing too jarring, but enough where you'd go, "huh?"
Both of those women were mad crazy during that time period. It's like they want to love their children, but I did not see that… they certainly said they loved them and tried to show it, but wow… kids were never the top priority!
Old Hollywood was a beautiful thing sometimes. It was also very messed up. Feud clearly shows the highlights in each and every episode.
There is a nice dream sequence in the last episode where Murphy explores "what could have been" if the two women ever tried to become friends.
The re-creation of some of the real movies were so fun to watch, especially having seen both the movies that were the key focus: Baby Jane and Charlotte.
The 1963 Oscars… that episode was brilliant. To see how they stabbed one another in the back. How Joan won in the end even when she didn't. And to think these ladies did stuff out and in the public, where everyone could see their behavior. Hilarious!
Final Thoughts
It's a re-living of history with about 80% truth and 20% exaggeration or fiction. But what you get is a solid show, full of memories and nostalgia for the olden days… which weren't all that long ago!
The concept of the show is great… and I really look forward to the next one with the prince and princess.
Too early to tell if the show will get any nominations at the Oscars, but we'll see soon enough!
You'll enjoy this no matter what age you are, whether you lived through it, watched some of the movies or think that's so far in the past, everyone else is ancient. It's got drama and comedy. It's got fashion, style and charm. It's got down and dirty politics and shenanigans. All with a classy production.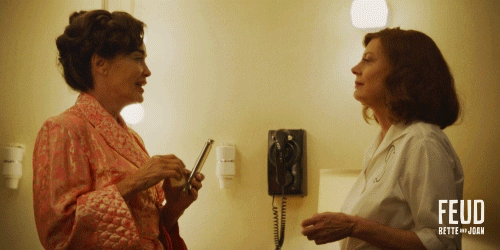 About Me
I'm Jay and I live in NYC. By profession, I work in technology. By passion, I work in writing. Each week, I will post a summary of a trip I've taken somewhere in the world. I'll cover the transportation, hotel, restaurants, activities, who, what, when, where and why… and let you decide for yourself if it's a trip worth taking.
Once you hit my site "ThisIsMyTruthNow" at https://thisismytruthnow.com, you can join the fun and see my blog and various site content. You'll find book reviews, published and in-progress fiction, TV/Film reviews, favorite vacation spots and my own version of the "365 Daily Challenge." Since March 13, 2017, I've posted a characteristic either I currently embody or one I'd like to embody in the future. 365 days of reflection to discover who I am and what I want out of life… see how you compare!
Feel free to like, rate, comment or take the poll for each post. Tell me what you think. Note: All written content is my original creation and copyrighted to me, but the graphics and images were linked from other sites and belong to them. Many thanks to their original creators.