Blind: lacking perception, awareness, or discernment
The word "blind" has many interpretations, both figurative and literal. If you are blind, you are unable to see. Perception is important to understanding a situation, as what you perceive may not always be correct and could lead you to confusion and chaos. Some people have tunnel vision and can only see something that is within a certain range. Others have intuition and can sense more than what they actually see. The best way for me to characterize what I'm thinking about today is by talking about those of us who are blind and those of us who are not. Let's talk about the physical side of it first…
Having issues with my sight has been prevalent for most of my life. I began wearing glasses around 7-years old. When I turned 16, I was allowed to get contact lenses. While I wouldn't qualify under the proper definition of blind, I have almost no ability to see anything other than faint colors and a huge blur, unless I'm wearing my glasses or contact lenses. I'm grateful that I have at least some ability to survive without them, but it is minimal. I wouldn't even get from my bed to the door without using my hands to navigate, walking baby steps and listening carefully to know what noises may clue me in to my surroundings. 20 / 400+ vision sounds familiar, from visiting the eye doctor when much younger. If I wear my glasses or contact lenses, I end up somewhere around 20 / 40 — able to see everything, but usually still squinting for anything minute or far away. At least I have that ability… and I know that makes me lucky, as I could not imagine having no ability to see at all.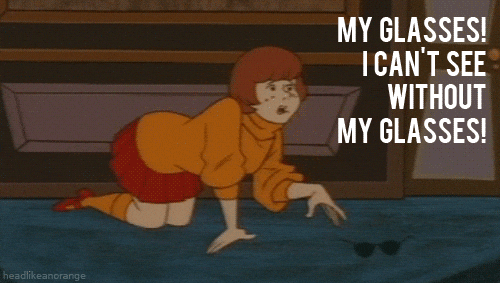 Perhaps because of my inability to see things clearly, I've developed an unusual retention or understanding of my physical surroundings. I'm hyper-sensitive about knowing where the entrances and exits are to whatever location I find myself in. But I don't often pay attention to the colors, art or objects within the place. Unless I'm there for the intention of looking at the art or objects, they all fade away as unimportant things to ignore. My "educated" guess is that it's a fear inside me, pushing me to know how to get in or out if I needed to in an emergency, as I would be lost without the plastic devices in or on my eyes.
If I am wearing glasses, my peripheral vision is weak. I can only see what's directly in front of me and not to the sides. If the room gets too hot, my glasses might steam up. It will even happen with my contact lenses in use. Or if the lenses get dry or itchy, I need to take them out right away. For me, those could be issues in an emergency situation. If I lose my glasses, or someone took them away from me, or my contacts had to be removed, I would not be able to get in or out on my own. Unless, I knew the entrance and exit locations fairly accurately, which is why it's always important for me. I wonder if that's part of the reason I don't like crowds, going to in-door concerts or being stuck up on higher floors…
Tunnel vision, over situations, is something we all experience from time to time. We choose only to see what we want to see within the parameters we've setup for ourselves. It could be a painful memory, an emotional avoidance, a strong desire… but we cling to a certain view of something, unwilling to consider anything outside those boundaries. I've done this on occasion, more when I was younger. I see it frequently in others now, if I stop and just monitor a conversation or note the way someone talks about certain situations. I've become perceptive to other people's tendencies, so to speak.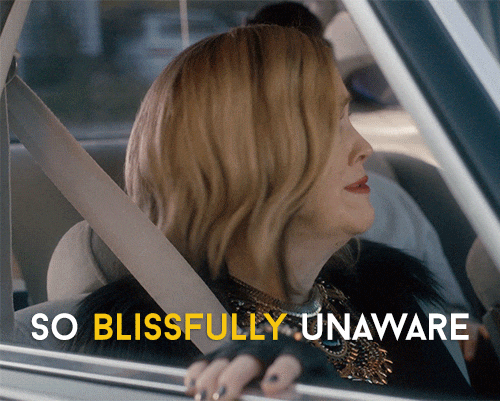 In my own world, my perception can be skewed. Sometimes I want something to be true, I don't see the things already indicating it isn't possible or couldn't happen. One's mind is powerful and controlling, often able to hide things we do not wish to see at that moment. Previous experience can sometimes dictate your emotional reaction to a situation, and then you are unable to consider all the other pertinent facts or actions. It's not often on purpose or even a choice; it just happens that way.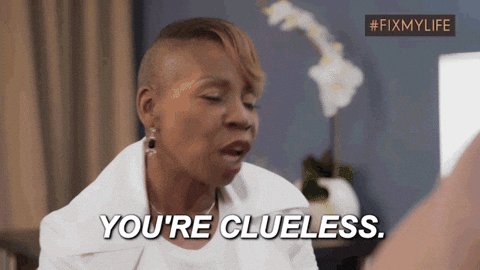 Blind. Blind to physical objects. Blind to memories. Blind to hidden meanings. Blind to the facts. We're all blind to something in our lives… sometimes it's important and might significantly change our paths. Sometimes it's meaningless and would simply be a red herring. Reality can be jarring. Blinding ourselves to the truth is often an easy way to move forward or avoid things that need to be confronted or considered. Have you ever taken a moment to step back… to look at what's going on around you… to remove the blinders and observe with a fresh approach?
About Me & the "365 Daily Challenge"
I'm Jay and I live in NYC. By profession, I work in technology. By passion, I work in writing. I've always been a reader. And now I'm a daily blogger. I decided to start my own version of the "365 Daily Challenge" where since March 13, 2017, I've posted a characteristic either I currently embody or one I'd like to embody in the future. 365 days of reflection to discover who I am and what I want out of life.
The goal: Knowledge. Acceptance. Understanding. Optimization. Happiness. Help. For myself. For others. And if all else fails, humor. When I'm finished in one year, I hope to have more answers about the future and what I will do with the remainder of my life. All aspects to be considered. It's not just about a career, hobbies, residence, activities, efforts, et al. It's meant to be a comprehensive study and reflection from an ordinary man. Not a doctor. Not a therapist. Not a friend. Not an encyclopedia full of prior research. Just pure thought, a blogged journal with true honesty.
Join the fun and read a new post each day, or check out my book reviews, TV/Film reviews or favorite vacation spots. And feel free to like, rate, comment or take the poll for each post. Note: All written content is my original creation and copyrighted to me, but the graphics and images were linked from other sites and belong to them. Many thanks to their original creators.