4+ of 5 stars to Grace and Frankie, a Netflix original TV comedy series created in 2015 and currently in season 3. What an amazing show! Only a few things holding it back from being a 5 star rating for me (covered below). Let's get into the fun!
Why This Show?
Netflix has become a go-to for TV viewing. I don't have to worry about recording a show. I always find something new and interesting. And the quality is always strong.
Lily Tomlin is hilarious. I've grown fond of Jane Fonda over the years. And the thought of a reunion since their movie "9 to 5" is enough to make anyone want to see this show. I just hope they get Dolly Parton to stop by for an episode or two.
What a great concept… and to show them living their lives separately, dealing with their husbands leaving them when in their 70s… I don't think that's been done before!
Show Overview
About thirteen (13) episodes in each of the three (3) seasons. Netflix releases them in May each year, so you can binge watch the whole season at once or keep it for longer by watching one every week or so like me!
Martin Sheen and Jane Fonda play Robert and Grace Hanson, married for about 40 years, with 2 daughters in their 30s, Brianna and Mallory. Martin's an attorney and Grace ran her own consumer products business for women.
Sam Waterston and Lily Tomlin play Sol and Frankie Bergstein, also married for about 40 years with two adopted sons in their 30s, Bud and Coyote. Sol's an attorney and Martin's best friend. Frankie's a free spirit who paints and invents things. She and Grace have never liked one another.
Robert and Sol fell in love over 30 years ago and have been engaged in a long-term affair, unable to tell their wives and children that they're both gay. In the first episode, it's finally revealed… and life is never the same again for the two couples.
Both divorce in the first season, and Sol and Robert finally move in together. Grace and Frankie realize they only have each other right now, as they don't want anyone else to know… so they end up moving in together in the beach house the couples shared. And they become friends, learning how to deal with each other's very different personas and styles.
Each episode is about the relationships they all share from dating, to parent/child to friendships. Grace and Frankie have to re-invent themselves in their 70s, trying to decide how to prove they are more than just jilted wives. Robert and Sol just want to move on and finally be happy together. When both families find out, everyone's surprised but at the same time, sorta saw it coming.
The show also has several side stories concerning:

Brianna takes over her mother's business when Grace retires.  She doesn't ever want to get married or have children, preferring to live the single lady and professional business woman's life.
Mallory is married with a lot of kids, living the family life. She's often jealous of her sister, but also loves her children.
Bud is following in his father's footsteps and about to take over the law firm. He was adopted at birth and is from Africa.
Coyote had a drug and drinking problem, recently released from a rehab facility. He used to be in love with Mallory, but has left her alone ever since she got married. He's still trying to figure out his life and future.
Grace and Frankie open a business together with a focus on providing sexual products to women over 65. Both women have tried dating, finding some success but also lots of struggles.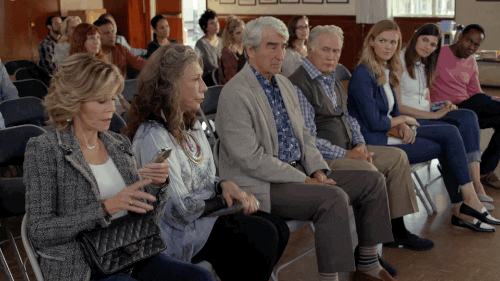 The Good and The Bad
It's a great slice of life for both gay men and straight women in their 70s. What happens when your relationship ends and you have to move on? Can you do it alone? Do you rely on friends? How do you re-invent yourself? What is important?  All good questions and the show tackles each one with careful aplomb.
I do not buy Martin Sheen or Sam Waterston as gay men. Both are playing a little lighter than their normal personalities in other roles; however, it can come across as a bit of a caricature or as a little too effeminate. It's not bad, but enough that I sorta squint my eyes and glance sideways to accept it. I think there could have been better casting for them both; however, I do enjoy watching their performances. Grace and Frankie are the stars of the show tho.
The four kids all feel a little over the top, as they each have their own issues. It makes for good drama, but I feel like too much stress is put on those aspects and less about the positive side of the relationships between parents and children. Too much fighting, but then again, maybe my family just never outwardly fought.
I laugh every episode. I get a little emotional in many of them. It's never boring. And often, you can relate to them, even though you might be 30 or 40 years younger.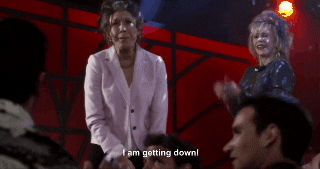 Final Thoughts
So many great topics: assisted suicide, coming out, inter-racial dating, affairs, dementia, hip replacement, robbery, guns, business ownership… something different each time, guaranteed to leave you with interesting thoughts and reactions.
You should know there is a bit of risque language and topics, especially when it comes to the products that Grace and Frankie have invented, designed and produced for their business for the 65+ women with arthritic hands. By now, you've probably guessed what I'm referring to… but it keeps going from there. So if those things are out of your comfort zone, you may want to skip the show.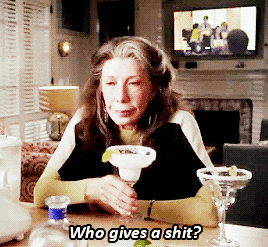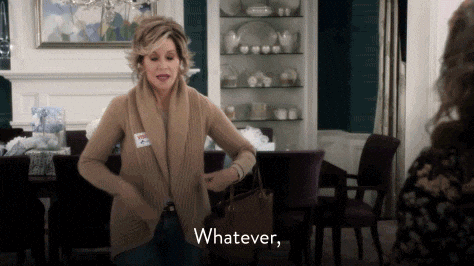 About Me
I'm Jay and I live in NYC. By profession, I work in technology. By passion, I work in writing. Each week, I will post a summary of a trip I've taken somewhere in the world. I'll cover the transportation, hotel, restaurants, activities, who, what, when, where and why… and let you decide for yourself if it's a trip worth taking.
Once you hit my site "ThisIsMyTruthNow" at https://thisismytruthnow.com, you can join the fun and see my blog and various site content. You'll find book reviews, published and in-progress fiction, TV/Film reviews, favorite vacation spots and my own version of the "365 Daily Challenge." Since March 13, 2017, I've posted a characteristic either I currently embody or one I'd like to embody in the future. 365 days of reflection to discover who I am and what I want out of life… see how you compare!
Feel free to like, rate, comment or take the poll for each post. Tell me what you think. Note: All written content is my original creation and copyrighted to me, but the graphics and images were linked from other sites and belong to them. Many thanks to their original creators.