Thank you very much to Kate at MeltingPotsandOtherCalamities for tagging me on this fun new tag she's created. Here's what she's told us:

Overview:
Let me explain the tag to clarify the confusing title. Basically, I saw a comment on the Webtoon A Budgie's Life about…romance fails in Webtoons. They cracked me up, even the serious ones! I may not be a romantic, but I found it funny and decided to do this tag. And that's how this tag came to be. Who knows? I may make a more serious Webtoon list about this later.
The Rules:
Please PINGBACK to her at Kate @ Melting Pots and Other Calamities. Or just Kate. And PINGBACK TO A SPECIFIC POST.  She won't see the post otherwise, and she'd like to see it.
At the very top of this post is the post I did the pingback for – other can copy that to make it easier if you'd like!
You can choose ten romance fails from ANY media you like: books, movies, anime, manga, T.V shows, or Webtoons. You can even mix them up if you want.
You can choose funny fails or serious ones; for the serious ones, phrase it humorously. Remember, this is a fun tag! It's not meant to be serious.
Mention who's who in the fails. (I.E, who fails and who is the recipient of the failure). If there isn't  recipient, per se, just state the couple (or non-couple).
Optional: Rank the failures from least extreme to most extreme.
5 failures at LEAST.
Tag as many people as you want, but at least one person.
The Tag:
Oh, I hope I did this one correctly!!! I've decided to pick from 5 different genres: (5) former bestseller & movie, (4) Netflix Show, (3) TV sitcom, (2) classic play and (1) current thriller. And I am not huge on the romance stuff, so I couldn't easily come up with more than the 5, but I think they are all funny!
5. Henry and Clare in "The Time Traveler's Wife" by Audrey Niffenegger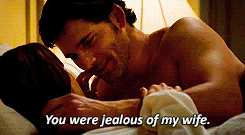 Love is hard enough without your husband randomly jumping time periods. Sometimes he's 5 and sometimes he's 85. That's just sick! I don't want to worry what's going on when I'm with my other half… they could randomly disappear or change their age. And then I'm learning sh*t about you before I even get to that age. Or you're watching me as a little girl, knowing you'll be my husband and what happens in our life… Woah. My head's gonna explode. Seriously? Yes… we love each other… but how do I buy you presents when you already know what's gonna happen? Something's just nuts here… and while the book and movie were OK… ayayayayaya… this kinda romance is not for me! And so you're on the list, buddy… don't be disappearing from it either, please.
4. "Grace and Frankie" on Netflix
3. "Rachel and Ross" from Friends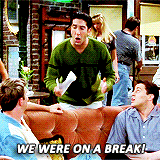 Love is hard. But when you've secretly been in love with your sister's best friend for years, you might just do anything to make it happen. Except… you marry two other women first, knowing you really don't love them. And then you say the wrong name at the wedding. Oh Ross… how on earth do you expect to win us over… oh, that's right… you finally get the girl! Yay… Ross and Rachel are together. Except there are a few issues. And you break up. And then one of you sleeps with someone else while you are not together. But then you get back together. And OMG…. the secret's out. And someone shouts "WE WERE ON A BREAK!"  Well… if you loved her Ross, you shouldn't have done that.  Yeah Yeah Yeah… you eventually get back together, but so much drama here. And for that, you are on my list of epic failures for what should have been a fairly straightforward romance. I still love you guys together tho!
2. "Romeo & Juliet" by William Shakespeare
Romeo and Juliet fall in love, but their families hate one another. What's a teenage couple to do when this happens? Kill yourself, of course. Or at least make it look like you've killed yourself. But then when one of you wakes up and thinks the other person is really dead, you actually kill yourself. And then the other person wakes up and freaks out. So what do they do… kill themselves… Whaaaat????? Love the story, but yikes… so much confusion over love. Why didn't you run away together and live happily ever after like all the fairy tales say? And for that, you"re on my list of epic fails (in a good way, of course).
1. Joe and  Beck from "You" by Caroline Kepnes
Joe falls in love with Beck when she wanders into his bookstore. He tries to convince her to go out with him, but she puts him off for a few months. Eventually, she gives it a chance; however, she doesn't realize that he's engineering everything happening in her life, behind the scenes, of course. She eventually falls in love with him and everything appears like it might actually work out. And even though he's a bit of a psycho, as readers, you will root for him to win her heart. But it seems all may not be as it appears. Beck's got some issues, too. And as this tale slowly unravels, it becomes clear there will be blood, as the cover shows. And for that reason, this is a major fail in the sense of romance! P.S. I love Joe and would not have been upset with him for stalking me. :O (not an excuse for anyone to stalk me… I'm fine, thanks!)
I Tag:
About Me
I'm Jay and I live in NYC. By profession, I work in technology. By passion, I work in writing. Once you hit my site "ThisIsMyTruthNow" at https://thisismytruthnow.com, you can join the fun and see my blog and various site content. You'll find book reviews, published and in-progress fiction, TV/Film reviews, favorite vacation spots and my own version of the "365 Daily Challenge." Since March 13, 2017, I've posted a characteristic either I currently embody or one I'd like to embody in the future. 365 days of reflection to discover who I am and what I want out of life… see how you compare! Each month, I will post a summary of a trip I've taken somewhere in the world. I'll cover the transportation, hotel, restaurants, activities, who, what, when, where and why… and let you decide for yourself if it's a trip worth taking. Feel free to like, rate, comment or take the poll for each post. Tell me what you think.
This entry was posted in My Blog, Tags and tagged fiction tag, friends, Grace and Frankie, no heart, no love, romance fail, romance fails in fiction, romance fails in fiction choice, romance tag, romeo and juliet, tag, Time Travel, You.