Challenged: impaired or lacking a specific request
{Aside: That's the worst definition I've found since looking words up for my post.)
Ashley: "I'd rather just stay in bed today and reflect on where my life is. That cool?"
Dylan: "I've gotta shower and head to work. You should probably get up and do something, right?"
<<Ashley does a giant eye roll while Dylan slips off the bed and walks toward the bathroom. >>
Ashley: "I am doing something. Enjoying my life. What's wrong with just watching TV, reading and blogging?"
Dylan: "Nothing. But is that what you want to do everyday?"
Ashley: "Maybe. Problem?"
Dylan: "Not at all. But how do YOU feel about it?"
<<Dylan turns on the shower while in the bathroom. Ashley turns over in the bed, face smooshed into the pillow. >>
Ashley: "Blah Blah Blah."
Dylan: "What was that?"
<<Dylan steps out and looks at Ashley with a set of concerned eyes. Ashley's head lifts from the pillow with a smirk. >>
Ashley: "I said it feels great."
Dylan: "Well then why did you ask me if it was okay?"
Ashley: "Because I don't know what the hell I'm doing anymore."
Dylan: "You need some help. Maybe I should stay home today and get you out of here for a few hours."
Ashley: "Um… no. I'm fine. You go to work. I'll just lay here until I figure it all out."
<<Approximately nine (9) hours later, Dylan arrives home. Ashley's now on the couch. >>
Dylan: "I see you've made some progress today. How's it feel?"
Ashley: "Didn't we talk about our feelings already this morning?"
Dylan: "Yes. But since you've moved your ass off the bed and on to the couch, I thought maybe there'd been a change at some point today."
Ashley: "Hilarious. Maybe you need to go back to work again."
Dylan: "Ah, yes… I see your feelings haven't really changed."
<<Ashley throws a pillow at Dylan. Dylan catches it and smiles. >>
Ashley: "Nope. Still the same as when you left."
Dylan: "There's always tomorrow."
Ashley: "You mean it's still the same day?"
<<Ashley drops to couch, face smooshed into a different pillow. Dylan nods and walks away. >>
QUESTION ON YOUR MIND
Jay, have you lost your mind today? This is supposed to be the 365 Daily Challenge. What did I just read, and are you having a breakdown?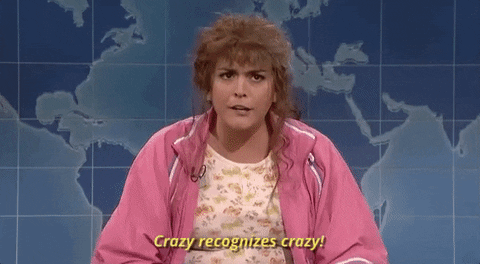 RESPONSE
Nope, I still have the same half a brain I had during yesterday's 365 Daily Challenge. Just wanted to spice it up a little. I didn't want to bore everyone and thought a little format change might do us some good. A few explanations:
Ashley and Dylan are not me and my partner.
We did not have this conversation today. Honestly.
Ashley and Dylan could be two men, two women, one of each or any combination.
We've all had these same thoughts before. Seriously.
What's the first word you felt after reading that dialogue?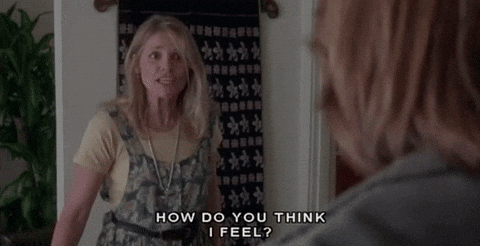 For me, after re-reading what I wrote, I thought: "Truth."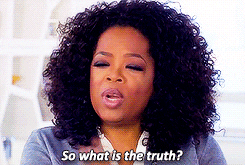 Then I sat back and thought some more. And it came to me. I think that's the dialogue going on inside my own head every morning when I wake up. I can see the two people bantering away, oblivious to the others rattling around in there who are tasked with keeping my body running. For example:
Miss Scarlet ensures the blood is circulating while I'm sitting on my ass.
Colonel Mustard is thinking about what to eat or cook. Important stuff.
Mrs. Peacock is literally making bird noises to keep Ryder (the dog) entertained.
Mrs. White is keeping my skin nice and pasty.
Professor Plum is researching how to escape. He can't stand to be around the others.
Mr. Green is dealing with all that digestion and growth. Someone's gotta work.
Lesson
I have a few too many ideas in my head about what I should be doing right now. And after 95 days of trying to figure it out, I'm not all that much further; however, I feel like this is something I want to keep doing… minus that on-going conversation in my head.
So now I'm revising my own word to be: "Challenged."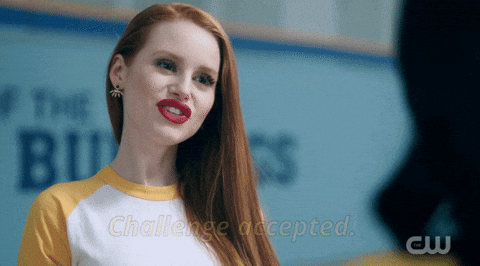 And that's why this is appropriate for today's 365 Daily Post.
<<Go ahead and laugh. A little humor can help this situation! >>
About Me & the "365 Daily Challenge"
I'm Jay and I live in NYC. By profession, I work in technology. By passion, I work in writing. I've always been a reader. And now I'm a daily blogger. I decided to start my own version of the "365 Daily Challenge" where since March 13, 2017, I've posted a characteristic either I currently embody or one I'd like to embody in the future. 365 days of reflection to discover who I am and what I want out of life.
The goal: Knowledge. Acceptance. Understanding. Optimization. Happiness. Help. For myself. For others. And if all else fails, humor. When I'm finished in one year, I hope to have more answers about the future and what I will do with the remainder of my life. All aspects to be considered. It's not just about a career, hobbies, residence, activities, efforts, et al. It's meant to be a comprehensive study and reflection from an ordinary man. Not a doctor. Not a therapist. Not a friend. Not an encyclopedia full of prior research. Just pure thought, a blogged journal with true honesty.
Join the fun and read a new post each day, or check out my book reviews, TV/Film reviews or favorite vacation spots. And feel free to like, rate, comment or take the poll for each post. Note: All written content is my original creation and copyrighted to me, but the graphics and images were linked from other sites and belong to them. Many thanks to their original creators.