Based on the votes, you chose Father Figure as the next novel I write. Last time, we kicked off the weekly updates with an introduction to the book and my accomplishments during week #1. It's already the end of week #2, and I'm happy to report that it's been a productive one. For a summary of the novel, scroll to the bottom of the post.
Status:  Friday, July 14, 2017 – Week #2
I edited the chapter by chapter outline by moving a few events around, adding two additional chapters to add to the drama in the opening pages, and incorporating some key dialogue points and lines into the first ten chapters.
I flushed out detailed bios for the 2 main characters and 6 of the 12 supporting characters. Molly's and Brianna's physical descriptions have been fully detailed, as well as their relationships with each of the family members. Both women have clear goals and objectives, thus driving the story arcs where I need them to go.
I've settled on the ethnicity, race, age, sexuality and attitudes for 6 of the 12 characters. By doing this, I've come up with two sub-plots which will help drive the story along, as well as provide depth to the characters. I'm finding myself slightly enamored with one of these supporting characters, trying to decide her ultimate fate among a sea of options.
I've listed approximately 20 locations that will appear in the book, organized by the 3 primary cities in which the story takes place. I'm working with a few friends who know those places well enough to provide some critical backdrop details. And within those 20 locations, e.g. coffee shop in NYC, professor's office in the university, I've prepared a summary of the overall look-and-feel that will be included in each setting.
Next Steps: Plan for Week #3
The remaining characters will be flushed out so that I have a 1 to 3 page detailed bio for each supporting character, depending on how frequently (s)he appears, and a 7 to 9 page bio for the 2 main characters.
The narrator's voice still needs more focus. It will be third-person omniscient but I'm debating the structure of the voice, e.g. direct and clear versus amusing and fluctuating, pending which main character is the focus point. Hard things to figure out, but important before you start writing in my world.
Detailed timeline by date, not specific to chapter. A true list of dates and times that all the action occur so that I can ensure I'm including appropriate connection points, drama, red herrings and shocker moments. You are in for a thrill (at least I hope) with 3 really suspenseful scenes and 3 moments where the intention is for a WTF reaction of "no… that can't happen!!!"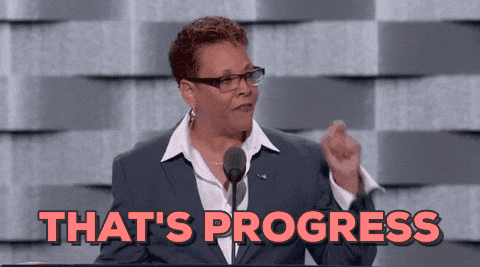 What's on the author's mind?
While I didn't have as much time as I'd hoped to work on the novel this week, I definitely devoted a solid 10 hours to it. It's amazing the moments of brilliance you have about a plot or a character when you find uninterrupted time to truly ponder.
I've decided to add some big diversity points into the story. I'd known in the beginning that I wanted one of them to be included, as I felt it was a major component of a character; however, as I thought about what story I'm trying to tell here, I felt it needed to play a larger role. I'm going to need to research more as a result of this decision, but I think it's also going to make the connection deeper with readers.
I'm debating the father. I keep picturing a scene from Star Wars and going back to…. "Well… maybe her father really should be X instead of Y."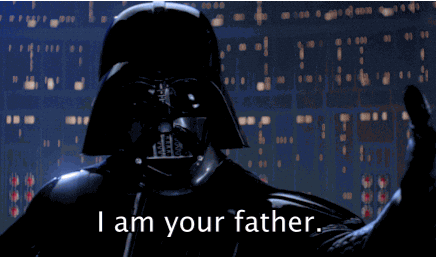 Ugh, just tell me who your father is, Brianna. NOW!
Open Questions / Thoughts
I'm still working through the ending. Cliffhanger or fully tied up? I may write both and see what a few beta readers think. The way it's planned, I'd only have to write 2 to 3 chapters differently, which is less than a week's work for me, especially since I have both endings clearly in mind already. The response last week from everyone was split fairly evenly, so if you have any examples of good or bad cliffhanger endings in books with sequels, throw 'em out there for me to consider.
My first thought on the opening lines… still very much a work in progress… and more just about setting the tone:

"I didn't raise no harlot, Amalia. When you're done with school today, you will go directly to the hardware store and help your father and me manage that register." The back of Janet Graeme's left hand stained her daughter's flushed cheek with a burning imprint as she pushed passed her towards the stove. The piercing whistle of the tea kettle not only took precedence over the conversation, it disguised Amalia's unexpected hollow whimper.
"But Momma, all the girls from my soccer team will be at the lake. We're just gonna go for a swim and watch the sun set. I'll be home to help with dinner," Amalia replied, the strain in her voice grew weaker with each of her mother's refusals to let her be a normal kid for once. She knew it wasn't time to give up.

Summary of Father Figure (only read if you're new to the book)
Amalia Graeme, sheltered and abused for most her life in Mississippi, longs to escape her difficult family and small hometown in 1984. When her older brother returns with his best friend, Amalia is tempted to have her first experience with a boy that summer. As they head off to college for her first year and his senior year, she begins to learn about life and love, battling her loss of innocence with the attraction she's developed to an older professor. After she suffers a few personal tragedies, Amalia is forced to head back home, uncertain how to handle the permanent impacts on her life and future. No matter where she turns, someone or something always takes away her possibility of hope.
Brianna Porter is desperate to discover the purpose of her life, develop confidence in who she is, accept the consequences of who she has fallen in love with, and discover her father's identity. Set twenty years in the future in New York City, there's a connection between these two women's stories that is about to be discovered. As Brianna stumbles upon her mother's old journal, she learns a shocking secret about her father, rocked by a truth that could completely change the future. It may be too late to deal with the impacts of unleashing a history that was meant to stay buried for many reasons. When it leads to someone's death, Brianna must come to terms with the choices she's made and what is left of her own future.
About Me
I am a writer. I am currently searching for an agent and looking at independent publishing options for my first book, Watching a Glass Shatter. To see more, please check out the website for this novel where you will find the first 3 chapters, character bios and sample quotes.
I am writing my second novel, Father Figure, with plans to finish it in December, 2017. As part of the process to engage with my fans and followers, I am publishing a weekly status on the progress of this second book. For a description of this book, check out the post where my friends and followers voted for this book as my second novel.
Beyond these two books, I have a number of short stories, poems and other novels in various shapes and forms. I also read A LOT. First the book review goes on Goodreads, and then I send it on over to my WordPress blog at https://thisismytruthnow.com, where you'll also find TV & Film reviews, Tags, Awards, Age/Genre/Book Reads and Author Spotlights, as well as the revealing and introspective 365 Daily Challenge.
You can also access my social media profiles to get the details on the who/what/when/where and my pictures. Leave a comment and let me know what you think. Vote in the poll and ratings. Thanks for stopping by. Note: All written content is my original creation and copyrighted to me, but the graphics and images were linked from other sites and belong to them. Many thanks to their original creators.