Vocal: expressing opinions or feelings freely or loudly
Yesterday was quite a day, leaving me little time to draft the 365 Daily Challenge post for today. Though I previously preferred drafting the posts early each morning, after consuming at least two cups of coffee, I've now become more comfortable writing them late afternoon in preparation for release the upcoming day. Yesterday I was not able to accomplish my goal. I had a prolific writing day for Father Figure, pushing me to a few extreme moments of hair-pulling crazies and watery eyes that refused to listen. Suddenly, fear permeated throughout my weakened body, when I looked up to see it was 4:30 pm. I've not written the post. I've not read anyone else's blog. I've ignored social media. And I had to leave my apartment by 5:45 for pre-scheduled plans. I had 75 minutes to accomplish everything, which was no small feat. Curious how I did? Oh… you're not gonna like the answer.
First, I changed into gym clothes. I can't go to the gym without those, now can I? OK, task one complete. Then Ryder looked at me with the "I need to go outside" expression. Fine… handled that. Distracted by trying to start the draft of this post. Couldn't focus. Picked out my clothes for the event. Ugh, @#@$@$ it's hot out. I have to wear pants and a shirt. I don't like shirts. I hate pants even more. "Why must I be punished by wearing clothes?" I ask myself. Someone answered me via text, reminding me they were a necessary evil so that I am not locked up in prison for streaking the neighborhood. So, I looked at the clock… needless to say, 30 minutes had passed before I was actually able to leave for the gym (given the tantrum I threw over pants in my closet choosing the lightest possible fabric and loosest-fitting yet smallest shirt possible), but that wasn't enough time. So nothing got done. Just a lot of back and forth trying to juggle way too many balls in the air, lacking clear priorities. Definite new number one task for later today: Prioritize everything you need to do.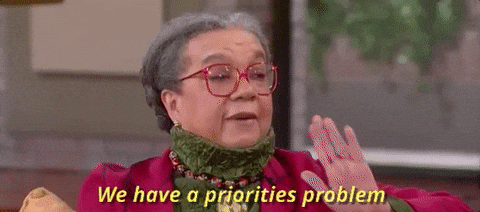 So… shower, change, head off to dinner. It's #@$#@$@# hot in the city in August. I was a sweaty mess by the time I arrived in midtown, across from Times Square, at the restaurant we all agreed to have dinner at. Ah, tourists… have you ever wondered what goes through people's minds when they look down at their phones, stare up at digital signs, point at everything that means nothing because they can and they're there, but it's something they could do anywhere, yet in NYC, it seems cool, and you'll never see it again, but in truth… it's just another human in a weird costume having a good day because that's what you do when you live in NYC so that you can get the attention of tourists and hopefully make a few bucks? (I haven't done that – @#$@@##@$).
Five people standing too far apart yet too close together to pass by them, their arms linked across the entire sidewalk with a full crowd in front of stores containing people entering and exiting, no one paying attention. Are people just truly not aware of their surroundings? I gave a few looks of death, as I'm pretty good at mastering that in-between look of 'I will shoot daggers at you in the hopes I'm letting you know that you are completely screwing up my timing and if you don't get out of my way way…' until they realize it and I can then dial it down to a 'Oh, thanks so much for letting me pass by, have a wonderful day,' unless they don't get it and then I elevate said look to 'You've got 3 seconds to get your #$@$# out of my path and use your #$#@$#@ brain to realize that you are so rude and unaware of the traffic problems you are causing right now so move the #$#@$#@$@ away right now.'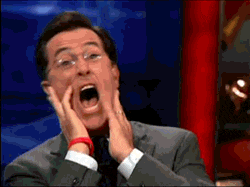 At that point, one of two things generally happens: (1) they move or (2) I move. Because I'm the kinda guy who may think all those things, yet I also know tourists make or break a town, and while NYC is in no shortage, I don't want to impede someone else's happiness the way they've chosen to momentarily impede mine. Ah… arrive at dinner. I was the third of five of us — even two minutes early! The bartender asks me what I want to drink. I search the menu about ready to pick a lovely cocktail to tone down my little mental tantrum when someone give me that look, surreptitiously and silently reminding me: 'You committed to not drinking for 21 days until the beach weekend, right?' #$#@$#@$#@ (Yes, I'm doing a lot of that today). On a different note, seltzer has such amazing qualities, between the flavors and the bubbles, it's just…
Dinner was great. We rushed out at 7:30 and made it to the the theatre. As we turn the corner, one friend says "These people are just standing everywhere blocking my path. Get the @#$#$# out of the way. Oh, I hope that's not the line to Hello, Dolly."
Point 1

: I wasn't the only person thinking that! Someone else relieved my shift and handled the tantrum business.

Point 2

: It was the line to get tickets which we had to pick up at Will Call. I counted about half way down it as we walked to the door. 289 people wrapped around the block.

Point 3

: I was going to Hello Dolly with Bette Midler!

Point 4

: W somehow got a nice, friendly security guard to let us go thru the side entrance and we suddenly were at our row within 5 minutes. The others had drinks. I did not. #@$@#$@#

Point 5

: Please do not be angry with us… Bette called and needed us in our seats. Couldn't help it.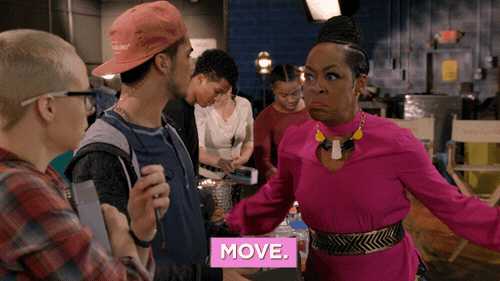 So, I'm sitting in my seat, and it's about five rows back, so amazing… and… well, now that I think about it, this post has already gotten quite along. And the word of the day is vocal. I can't remember if I meant vocal as in not sharing the thoughts in my head, or vocal as in screaming about them to anyone who will listen. And if I keep them in my head, does that mean I am not vocal? Or was the point to talk about the vocals at Hello, Dolly. Unfortunately, we've run out of time today with this post, as my priorities dictate it's time to move on to writing the next Father Figure chapter. I'll be back again tomorrow where it might be time to dish about the show last night. Dolly will have to wait 24 hours.
YES, YES I AM
Love,
#$@$#@$%@# JERK @#$@@#$@# RUDE  #$@@$#@$@# (AKA Insensitive Me)
Aside: While all this was true, I hope you know I'm just being humorous today… and I promise to talk about the Broadway show in tomorrow's post… I just have to be vocal about that!
RECOMMENDED BLOGGER
Today's 365 Daily Challenge recommended blogger to know is Linda @ Maine Paper Pusher. Linda and I met online about two months ago through another fun blogger, and I feel like everyone already knows this wonderful woman, so why would I need to include her in my Recommended Bloggers… right? But on the off chance you don't know her, you should be clicking the link above to peruse her site and then click the follow button on hers. Start with the post from earlier this week where she tells us how she is like a porcupine. Yes, a porcupine. So on point! Linda is always an extremely funny poster and comment writer — I never know what to expect but it always provides an undeniably interesting and funny perspective that will make you tilt your head and say "what is she talking about… oh, wait… that's totally true!" We've had some good banter going back and forth, all starting when I tagged her on an award or some other post. It was a doozy of a tag that would cause her hours to decide on what content, so she let me have it — in a totally hysterical way. It was the start of a great online friendship which makes me smile each day. I read all her posts and try to keep up with the wit, though I usually fail miserably. If you'd like to learn more about her but not from me (maybe you don't even like me!), check out what is on the site's About Me (AKA Life is Good in Cornville) section:

"I wear many hats: dog mom, silly auntie, baffling wife.  I've been "retired" for 3 years following a diagnosis of epilepsy that continues to stump the docs.  Mostly, I just hang out in our old farmhouse in Cornville, Maine.   Our house is in the country so I get to watch deer and wild turkeys in my back yard.  Bald eagles fly overhead and the view from my living room is a horse pasture.  Life is good in Cornville, Maine. On the inside, the house is a circus.  I have two Great Danes, two cats, a collection of fish, and my ever-suffering husband Bill.  Yup, life is good in Cornville."
About Me & the "365 Daily Challenge"
I'm Jay and I live in NYC. By profession, I work in technology. By passion, I work in writing. I've always been a reader. And now I'm a daily blogger. I decided to start my own version of the "365 Daily Challenge" where since March 13, 2017, I've posted a characteristic either I currently embody or one I'd like to embody in the future. 365 days of reflection to discover who I am and what I want out of life.
The goal: Knowledge. Acceptance. Understanding. Optimization. Happiness. Help. For myself. For others. And if all else fails, humor. When I'm finished in one year, I hope to have more answers about the future and what I will do with the remainder of my life. All aspects to be considered. It's not just about a career, hobbies, residence, activities, efforts, et al. It's meant to be a comprehensive study and reflection from an ordinary man. Not a doctor. Not a therapist. Not a friend. Not an encyclopedia full of prior research. Just pure thought, a blogged journal with true honesty.
Join the fun and read a new post each day, or check out my book reviews, TV/Film reviews or favorite vacation spots. And feel free to like, rate, comment or take the poll for each post. Note: All written content is my original creation and copyrighted to me, but the graphics and images were linked from other sites and belong to them. Many thanks to their original creators.