College Jobs: jobs I held during college years to pay for tuition and have some spending money
Sunday posts, the end of each week, have become a theme on This-Is-My-Truth-Now, organized by groups of five (5) focused on interesting things about my life. I'm continuing the trend of the seventh day, ending the week on Sunday, as a list (we know I love them) that provides more in depth knowledge about me.
Weeks 1 – 5: Primary ethnicity groups and nationalities
Weeks 6 – 10: A to Z Favorites
Weeks 11 – 15: Colors with an important meaning
Weeks 16 – 20: Cities I've lived
The current set of 5 Sundays covers the major groups of roles / jobs / positions I've held over my career. Though I have had about fifteen titles over the years, when I broke it down into smaller groups, week two is all about the jobs I held during college.
Day Care Worker
Waiter
College Department Office Clerk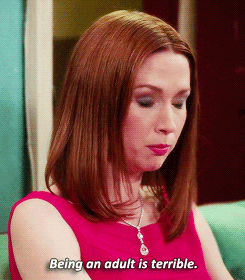 First semester students were not permitted to work in lieu of having time to adjust to being on your own, away at a college campus. It's probably for the best, as it not only gives you the ability to sort out your friends, schedule and identity, but it also lets you focus on looking for the the right kind of job. When I enrolled at Moravian College, I knew I wanted to major in English and Education, so I talked to both departments. The Education Department had already hired someone for the spring semester, but the English Department wanted to see how I did in the first year writing course before I started in the Writing Center as a tutor. I needed a job! I had a phone bill to pay. And needed cash to go on dates. To buy books. Whaaattt??
By luck, I met and chatted with the Catholic Chaplain at mass each Sunday, as I went to church back then. Father Pete was a great man. We talked for hours about life, pursuing hopes and dreams and figuring out our connection to God and others. I worked in the on-campus seminary office for a few months, helping as a clerk with various responsibilities until he moved on in the beginning of my sophomore year to a different school. I chose not to return to that office as a student worker, as the only reason I had taken the role was the friendship with Father Pete. At that point, the English Department hired me as a tutor for 10 hours per week.     Thye sed i culd right wel!    I worked with first year students to offer advice on papers, help them understand basic grammar rules and provide guidance on research options for their course topics. I was also offered 10 hours in the Education Department, helping to coordinate the senior year student teaching program with all of the local schools. Both were fantastic jobs, but I had to quit the Writing Center position in my junior year because the Education Department's office manager had become sick. She was taking a 3 month leave of absence and the Department Chair hadn't wanted to hire anyone else. I ran the office with another student, taking on about 25 hours per week, which was the maximum for any student worker.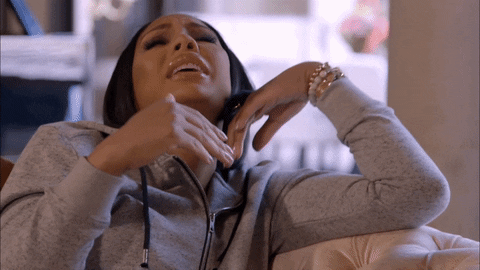 All of these experiences taught me essential and critical office and business skills, eventually preparing me for my future in post-college jobs — an upcoming post. I made several great contacts, learned the art of negotiation and developed ways to build relationships and trust, beyond that of a professor and a student. It also helped push me towards obtaining teaching certification, which I ultimately stopped just before the final stage. After a year of student teaching, I had realized that if I taught children all day long, I might not be such a great parent at night, needing a break from it and wanting the opportunity for adult conversation. Ultimately, though I love the concept of teaching, I would not handle the politics in grammar and secondary schools these days. I finished out college with a minor in Education, added in Spanish and Business courses, and obtained a degree in English with two concentrations in writing and literature.
While school was out for the summers, or had minimal classes, both departments cut hours for students, which was fine for me. I ended up searching for jobs and took one related to my field and one unrelated to my field. Let's start with my job as a waiter, perhaps one of my favorites. My father's cousin owned an upscale Italian restaurant and hired summer workers. I had been there a few times, helping her with setting up menus on the computer and the screens for the cashier registers. She gave me a chance working as a waiter on the lunch shifts, a sort of test run to see if I could hack it. Apparently, I could! She soon put me on the schedule for Friday and Saturday nights. Despite being shy, I had a different persona when I was a waiter, one in which I was super friendly, slightly flirty and extremely attentive. I never dropped any food or drinks, rarely got abused my rude customers and usually came home with a really good amount of tips. I learned a lot from the kitchen staff, how to order food from suppliers and how to make drinks. Another great set of skills to pick up when you are 19 / 20, as I did this for both the summers after freshman and sophomore year.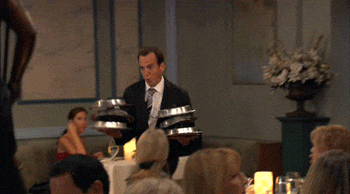 Additionally, during my sophomore year, and then again during my junior year summers, I worked for 35 hours per week at a day care nursery school. I was assigned the first year as the helper in a room for two-year-olds, and then I was given primary responsibility for a room of 3-year-olds. Knowing the kids were much younger than I planned to teach, it wasn't a perfect fit; however, it was much better than working inside all day in a job that felt claustrophobic over the summer. I had two fifteen-minute breaks, plus 30 minutes for lunch. We took them to the gym for 30 minutes each day, plus 30 minutes outside for a walk around the property. We played games, read and tried to teach a few things around nap schedules. It was a really fun job, as I love children. I'm usually the one crawling on the floor, acting like a child myself.
It was a little awkward at first, as some of the two-year-olds needed their diapers changed, which although not something new for me (I had tons of younger cousins I often babysat), it felt weird to do that in public in a room with other kids and adults, knowing I was the only guy in the entire school. I think I might have been a 'diversity' hire — I mean no offense by that in terms of race or ethnicity, simply a little humor in that the owner was overly-thrilled I wanted to work there but also nervous what the parents would think. I wasn't out to anyone during college, nor very obvious, but they must have known. Some of the girls flirted at first, but either I gave off signals or they realized their bark was climbing the wrong tree! I had to go through an extra interview process to meet all the parents at a drop-off and pick-up prior to being approved in the classroom. It was right at the height of all the laws changing to be more protective of children (rightfully so) and still at a time when it wasn't quite normal for a guy to work in that field. It probably helped that at 20, I still looked 14 (just like at 40, I still look 18 21 27 33, and keep your mouth shut if you feel the need to say anything else), and although I was quite smart and adult-like in everything I did, I always came across as quote young and innocent.

I don't think I could or would do that job again now. Not because I don't love children, but because parents and schools are nightmares when it comes to all the do's and don'ts in the classroom. I understand the policies and different teaching methods, but I have little tolerance for all the BS politics. I also probably wouldn't want to be a waiter again, not because of the tasks or the duties, but because people are so rude on their cell phones to wait staff, it doesn't feel worth it anymore. Whenever I'm a patron in a restaurant, I ensure I know the server's name and find a connection point to keep dialogue moving throughout the time (s)he is serving us. That's sorta the issue for me… they might be 'serving' us for that 90-minute period, but seriously, let's all be friendly and open-minded about it. If the waiter is a jerk or difficult, then I just let them be cold and distant and won't connect. Always their choice in the beginning…
How about you? What did you learn from your college or summer jobs after graduating from high school? Or what are your kids thinking about doing?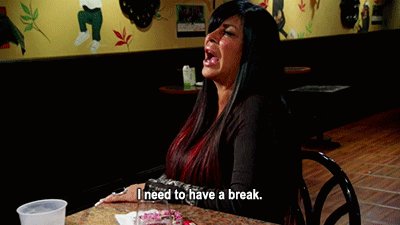 RECOMMENDED BLOGGER
Today's 365 Daily Challenge recommended blogger to know is Karen @ Run Wright. I don't exactly recall how or when Karen and I connected, but it was a good thing it happened. She's a published author, has a fantastic personality and a bit of a fun quirky humor in all our conversations. We've chatted about everything from TV shows to running to what to do if your date showed up wearing a romper or a jumper matching the one you'd chosen. Yikes! We both live in NYC and might meet up one day, which could just blow the whole blogging world up — as there are many of us here (I already met one lovely lady). We could all start a club. Karen is a delight to chat with, interacts frequently and always pushes you to think outside the box a little. I'm very curious to see if she'd take over a 365 post one day, simply to see what kind of angle she'd pursue. I'm also very curious about this accent she tells us about. When I read her comments, I try to think about her typing it out on a mobile phone while hopping on the subway three cars down from me — wouldn't that be ironic! If you want to learn more about her, check out the below blurb from her About Me section and then go visit the site yourself:

"I'm Karen but people who know me through the blog now call me Run Wright. It's always funny for me to hear that but I love the validation.I'm a published author and my collection of stories, It's Complicated: Short Stories About Long Relationships is now available on Amazon. I'm Jamaican but I've lived in New York City almost long enough to have lost my accent (not really)… My accent is most distinct when I'm excited (at least once a day) and always when I talk to my mom. I love running even though I'm not very good at it. I am a Chemical Engineer by training but my true passion is writing – it's how I express myself best and it's how I share my dreams with others. I write fiction, poetry, articles, short stories and I have a several novels on my computer that are almost ready to be published. I blog about running, fitness, goals, lessons learned, books, food and balanced living. I'm passionate about being a Christian and live to reflect God's character."
About Me & the "365 Daily Challenge"
I'm Jay and I live in NYC. By profession, I work in technology. By passion, I work in writing. I've always been a reader. And now I'm a daily blogger. I decided to start my own version of the "365 Daily Challenge" where since March 13, 2017, I've posted a characteristic either I currently embody or one I'd like to embody in the future. 365 days of reflection to discover who I am and what I want out of life.
The goal: Knowledge. Acceptance. Understanding. Optimization. Happiness. Help. For myself. For others. And if all else fails, humor. When I'm finished in one year, I hope to have more answers about the future and what I will do with the remainder of my life. All aspects to be considered. It's not just about a career, hobbies, residence, activities, efforts, et al. It's meant to be a comprehensive study and reflection from an ordinary man. Not a doctor. Not a therapist. Not a friend. Not an encyclopedia full of prior research. Just pure thought, a blogged journal with true honesty.
Join the fun and read a new post each day, or check out my book reviews, TV/Film reviews or favorite vacation spots. And feel free to like, rate, comment or take the poll for each post. Note: All written content is my original creation and copyrighted to me, but the graphics and images were linked from other sites and belong to them. Many thanks to their original creators.