Day:
September 2, 2017
Line: (a) the type of work you do, (b) a TV quiz show that ran from 1950 to 1967
I have been a fan of game shows since I was a small child, watching Price is Right whenever I found myself home sick from school or catching Jeopardy after dinner each night. As I grew older, I navigated to other quiz shows, occasionally catching a re-run on network or cable television. Sometime last year, W suggested we give the TV quiz show 'What's My Line?' a chance. He often watches shows that are older than either of us, earning a nickname that in my opinion is absolutely spot on. He doesn't agree and forbids me for ever sharing it. Ah, I digress. We watched an episode and I immediately found myself hooked. It's now recorded through our cable on demand system, and we usually catch a few episodes each week before bed. When I asked him for ideas on what I could pre-post about, he suggested this show, hence today's 365 Daily Challenge word being 'line' as a tribute to this wonderful blast from the past.
The show first aired in 1950 on the CBS network, running until 1967 when it was unfortunately canceled. It's been re-booted a few times, and had versions all over the world, but I have only watched this original one. There is a host and four panelists who regularly appear on the show, along with 4 to 6 different guest contestants. The basic premise: panelists ask questions of the contestant to try to guess their line, that is, their type of work. The question must be in the form of a 'yes' or 'no' answer, and if it's 'no,' then the contestant gets a point. After 10 points, equivalent to $50, if the panelists haven't figured out the exact line of work, the contestant wins the money. If the panelist does guess the line, then it was just a fun quiz for everyone to watch; they do keep whatever money they earned up until the panelist guesses correctly. One of the guests each night is a celebrity or person with some level of fame, called the 'mystery guest,' and in those segments, the panelists wear a blindfold so that they cannot see the person. Often the audience reactions will help navigate the line of questions, as laughs or boos will help decide how to proceed.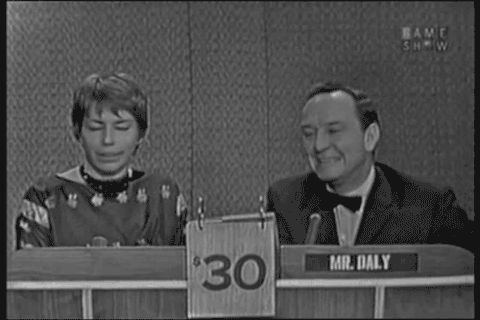 The re-runs we've been watching are from the mid-1950s and usually have the same 5 panelists and hosts, so I am only focusing on them; however, given the show ran for 15+ years, and there were multiple deaths, there are a slew of others that participated from time to time. John Charles Daley hosted the show. The four panelists we most often see are Dorothy Kilgallen, Arlene Francis, Bennett Cerf, and Fred Allen. Each were quite famous on their own, but the show helped boost their careers even more. The panelists needed to have a certain star appeal, but also know a lot about the goings-on in Hollywood and politics in order to guess the mystery guest each week. Whenever they were on vacation, others filled in on the panel, including stars such as Betty White and Desi Arnaz. For the most part, I am familiar with the celebrities that join as the mystery guest, but they have definitely stumped me on a few. It's amusing to watch them use different voices or sounds when their own voice is too recognizable.
Another truly fantastic part of the show are the sponsors: Stopette and Remington Rand. When Stopette advertises the perfume and deodorants, it's absolutely hilarious to hear the words they use and see the images and graphics in support of the products. Whenever they say 'poof,' I crack up laughing because it's just so absurd to think this sold more products. But I also know it was quite a different time and television was relatively new for this type of advertising. I keep comparing it to the TV show Mad Men, wondering how these commercials ever got a green light approval. When I watch Remington show us what their razor is capable of doing, and someone plugging it into his car while driving, I lose it. Or when they literally shave the fuzzy skin off a peach to show you how close it can get, I am unable to stop myself from cackling. The best is when they show the computers that will change the filing system for women who are trying to keep track of records for their tired old bosses. It was a different time, one I wish I lived in for a few years. Oh, the humor of it all.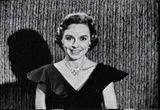 Below is a link to the Wikipedia page so that you can read up on its history, as well as all the different hosts, panelists and guests. The concept of the show is pretty spot on, especially when you think that people's jobs have always been their identify. Even now in 2017, when you meet someone new, they ask you what you do for work. I can imagine nearly 60 years ago saying to someone, 'what's your line?' during introductions. As much as things change, they always stay the same, wouldn't you say? Apart from learning about people, you also learn what type of jobs were more popular back during this time period. For instance, they brought on the strangest things like a flag pole climber. I remember watching that episode being stumped as to how that could be a job. As an audience member, you know the person's job, as it flashes on the screen, so it's not like I waited until all the questions had been asked to find out. But realizing what people did for work is pretty amazing.
https://en.wikipedia.org/wiki/What%27s_My_Line%3F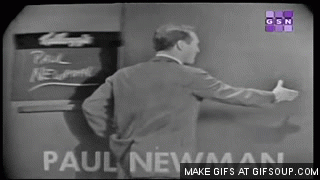 If I had more time, I would have posted a bit more about each of the hosts. I have a connection to all of them, albeit in weird ways. One of them was a founder of Random House, a publisher. Another was a gossip columnist, a writer of sorts. I am an author, so this was something cool for me to see. And on top of all that, one of the panelists died under very mysterious circumstances. She had been reporting on something very controversial to the JFK assassination, when suddenly she was found dead of a very odd drug overdose; many believe she was murdered for the information she had been about to publish!
Sometimes nostalgia kicks in and you want to watch a little piece of history, to connect to things maybe your parents or grandparents lived through. And for some of my friends on here, you may have even watched this show the first time around as a child. I've love to hear your thoughts on it. How about all of you — ever watched the show? Have another cool blast from the past like this to share?
About Me & the "365 Daily Challenge"
I'm Jay and I live in NYC. By profession, I work in technology. By passion, I work in writing. I've always been a reader. And now I'm a daily blogger. I decided to start my own version of the "365 Daily Challenge" where since March 13, 2017, I've posted a characteristic either I currently embody or one I'd like to embody in the future. 365 days of reflection to discover who I am and what I want out of life.
The goal: Knowledge. Acceptance. Understanding. Optimization. Happiness. Help. For myself. For others. And if all else fails, humor. When I'm finished in one year, I hope to have more answers about the future and what I will do with the remainder of my life. All aspects to be considered. It's not just about a career, hobbies, residence, activities, efforts, et al. It's meant to be a comprehensive study and reflection from an ordinary man. Not a doctor. Not a therapist. Not a friend. Not an encyclopedia full of prior research. Just pure thought, a blogged journal with true honesty.
Join the fun and read a new post each day, or check out my book reviews, TV/Film reviews or favorite vacation spots. And feel free to like, rate, comment or take the poll for each post. Note: All written content is my original creation and copyrighted to me, but the graphics and images were linked from other sites and belong to them. Many thanks to their original creators.