Day:
September 8, 2017
Did you ever have one of those weeks where things just don't go as well as you planned? I finally had one, but it's totally fine. It was a banner week in terms of becoming an author, but I had to split my time between Watching Glass Shatter and Father Figure which meant I didn't meet all my goals. Four of my five days this week were devoted to a holiday, returning from the short trip to LA and launching the new author website. As a result, I only had one day to work on the new novel, but I am really excited to present Father Figure's weekly status:
Status:  Friday, September 8, 2017 – Week #10
Round 1 Edit – The First Draft

I read thru 75% (285 of 380 pages) and edited them for all grammatical and spelling errors.
I marked 10 areas for content removal or reduction.
I cleaned up most of the point of view issues.
Next Steps: Plan for Week #11
Round 1 Edit – The First Draft

Mon – Finish reading remaining 25% and correct grammar and spelling
Tues – Finish marking POV issues and content removal options
Wed – Fix POV issues
Thurs – Update character and setting descriptions throughout whole book
Fri – Remove and adjust areas of content change

Send first draft to 5 beta readers
Prepare for vacation 9/17 thru 10/1 – No work to be done on Father Figure!
What's on the author's mind?
I am behind this week, but I will finish on schedule next week. And I am excited to begin sharing it with beta readers.
I adore ~15 chapters in the middle where even as the author, I'm flipping pages so quickly because the suspense is killing me. Maybe it's because I know the content, but to see what the characters go through seems really amazing. I feel like I found the right balance of dialogue and description to stop and start the thrills, it makes readers want to dive in. I could be wrong, but I think I might have done quite well in this section.
_____________________________________________________________________________________
Summary of Father Figure (only read if you're new to the book)
Amalia Graeme, sheltered and abused for most her life in Mississippi, longs to escape her difficult family and small hometown in 1984. When her older brother returns with his best friend, Amalia is tempted to have her first experience with a boy that summer. As they head off to college for her first year and his senior year, she begins to learn about life and love, battling her loss of innocence with the attraction she's developed to an older professor. After she suffers a few personal tragedies, Amalia is forced to head back home, uncertain how to handle the permanent impacts on her life and future. No matter where she turns, someone or something always takes away her possibility of hope.
Brianna Porter is desperate to discover the purpose of her life, develop confidence in who she is, accept the consequences of who she has fallen in love with, and discover her father's identity. Set twenty years in the future in New York City, there's a connection between these two women's stories that is about to be discovered. As Brianna stumbles upon her mother's old journal, she learns a shocking secret about her father, rocked by a truth that could completely change the future. It may be too late to deal with the impacts of unleashing a history that was meant to stay buried for many reasons. When it leads to someone's death, Brianna must come to terms with the choices she's made and what is left of her own future.
About Me
I am a writer. I am have signed a contract for a publisher on my first book, Watching a Glass Shatter. To see more, please check out the website for this novel where you will find the first 3 chapters, character bios and sample quotes.
I am writing my second novel, Father Figure, with plans to finish and submit it to a publisher in November, 2017. As part of the process to engage with my fans and followers, I am publishing a weekly status on the progress of this second book. For a description of this book, check out the post where my friends and followers voted for this book as my second novel.
Beyond these two books, I have a number of short stories, poems and other novels in various shapes and forms. I also read A LOT. First the book review goes on Goodreads, and then I send it on over to my WordPress blog at https://thisismytruthnow.com, where you'll also find TV & Film reviews, Tags, Awards, Age/Genre/Book Reads and Author Spotlights, as well as the revealing and introspective 365 Daily Challenge.
You can also access my social media profiles to get the details on the who/what/when/where and my pictures. Leave a comment and let me know what you think. Vote in the poll and ratings. Thanks for stopping by. Note: All written content is my original creation and copyrighted to me, but the graphics and images were linked from other sites and belong to them. Many thanks to their original creators.
Vulnerable: susceptible to physical or emotional attack or harm
Being vulnerable is often interpreted as letting yourself be open to something that might hurt you. It's usually not associated with a positive outcome, leaving us to worry about the consequences of other people's or even our own actions. It could be that we reveal too much about ourselves or we let emotions control our reactions to those around us. In the end, we feel vulnerable over the entire situation, afraid of letting it ever happen again. Being vulnerable is scary. But sometimes being vulnerable, in a healthy way, can help us grow.
Fear is always going to exist. There will always be bad people who do bad things for bad reasons. Life is not a perfectly run machine; there are accidents, breakdowns and system failures. Sometimes it feels like the right thing to do is avoid risk and stay hidden somewhere no one can reach us. Yet if we remain closed up, unable to share our thoughts and interact with others, we might miss out on a ton of good things still to come. That's where there the element of surprise can often bring wonderful change, giving us the freedom to control some of the parameters so that we have better balance among our ability to be vulnerable in a good way in front of others.
Today's 365 Daily Challenge word is 'vulnerable' as a reminder that while there are many types of natural and unnatural disasters happening all around us, we can't let ourselves be afraid to open up to others in a safe and comfortable environment. Look for the areas of life where you can experience beauty and love, by letting yourself be a little bit more receptive to new and sometimes scary ideas. Don't focus on all the negative things that could bring more harm than necessary. Find a balance where vulnerability is within your power to share in comfortable situations and withhold in uncomfortable ones. It doesn't have to mean someone is weak or open to attack because they allow themselves a bit of vulnerability. It could be that (s)he will find a positive connection that helps calm and settle everything around them.
It's OK to say "I can't do it all" or give yourself permission to make a mistake. People understand when you need to take smaller steps and re-schedule something. You can allow yourself a few moments to breathe without worrying what others will think of you. Being vulnerable in a healthy manner is simply taking care of yourself so that you can recharge and refresh before moving forward with a decision or action. But being vulnerable can also be an opportunity to discover something new about yourself.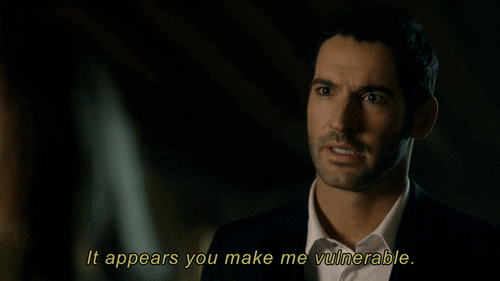 About Me & the "365 Daily Challenge"
I'm Jay and I live in NYC. By profession, I work in technology. By passion, I work in writing. I've always been a reader. And now I'm a daily blogger. I decided to start my own version of the "365 Daily Challenge" where since March 13, 2017, I've posted a characteristic either I currently embody or one I'd like to embody in the future. 365 days of reflection to discover who I am and what I want out of life.
The goal: Knowledge. Acceptance. Understanding. Optimization. Happiness. Help. For myself. For others. And if all else fails, humor. When I'm finished in one year, I hope to have more answers about the future and what I will do with the remainder of my life. All aspects to be considered. It's not just about a career, hobbies, residence, activities, efforts, et al. It's meant to be a comprehensive study and reflection from an ordinary man. Not a doctor. Not a therapist. Not a friend. Not an encyclopedia full of prior research. Just pure thought, a blogged journal with true honesty.
Join the fun and read a new post each day, or check out my book reviews, TV/Film reviews or favorite vacation spots. And feel free to like, rate, comment or take the poll for each post. Note: All written content is my original creation and copyrighted to me, but the graphics and images were linked from other sites and belong to them. Many thanks to their original creators.