Vulnerable: susceptible to physical or emotional attack or harm
Being vulnerable is often interpreted as letting yourself be open to something that might hurt you. It's usually not associated with a positive outcome, leaving us to worry about the consequences of other people's or even our own actions. It could be that we reveal too much about ourselves or we let emotions control our reactions to those around us. In the end, we feel vulnerable over the entire situation, afraid of letting it ever happen again. Being vulnerable is scary. But sometimes being vulnerable, in a healthy way, can help us grow.
Fear is always going to exist. There will always be bad people who do bad things for bad reasons. Life is not a perfectly run machine; there are accidents, breakdowns and system failures. Sometimes it feels like the right thing to do is avoid risk and stay hidden somewhere no one can reach us. Yet if we remain closed up, unable to share our thoughts and interact with others, we might miss out on a ton of good things still to come. That's where there the element of surprise can often bring wonderful change, giving us the freedom to control some of the parameters so that we have better balance among our ability to be vulnerable in a good way in front of others.
Today's 365 Daily Challenge word is 'vulnerable' as a reminder that while there are many types of natural and unnatural disasters happening all around us, we can't let ourselves be afraid to open up to others in a safe and comfortable environment. Look for the areas of life where you can experience beauty and love, by letting yourself be a little bit more receptive to new and sometimes scary ideas. Don't focus on all the negative things that could bring more harm than necessary. Find a balance where vulnerability is within your power to share in comfortable situations and withhold in uncomfortable ones. It doesn't have to mean someone is weak or open to attack because they allow themselves a bit of vulnerability. It could be that (s)he will find a positive connection that helps calm and settle everything around them.
It's OK to say "I can't do it all" or give yourself permission to make a mistake. People understand when you need to take smaller steps and re-schedule something. You can allow yourself a few moments to breathe without worrying what others will think of you. Being vulnerable in a healthy manner is simply taking care of yourself so that you can recharge and refresh before moving forward with a decision or action. But being vulnerable can also be an opportunity to discover something new about yourself.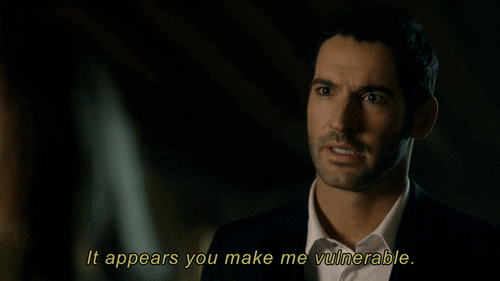 About Me & the "365 Daily Challenge"
I'm Jay and I live in NYC. By profession, I work in technology. By passion, I work in writing. I've always been a reader. And now I'm a daily blogger. I decided to start my own version of the "365 Daily Challenge" where since March 13, 2017, I've posted a characteristic either I currently embody or one I'd like to embody in the future. 365 days of reflection to discover who I am and what I want out of life.
The goal: Knowledge. Acceptance. Understanding. Optimization. Happiness. Help. For myself. For others. And if all else fails, humor. When I'm finished in one year, I hope to have more answers about the future and what I will do with the remainder of my life. All aspects to be considered. It's not just about a career, hobbies, residence, activities, efforts, et al. It's meant to be a comprehensive study and reflection from an ordinary man. Not a doctor. Not a therapist. Not a friend. Not an encyclopedia full of prior research. Just pure thought, a blogged journal with true honesty.
Join the fun and read a new post each day, or check out my book reviews, TV/Film reviews or favorite vacation spots. And feel free to like, rate, comment or take the poll for each post. Note: All written content is my original creation and copyrighted to me, but the graphics and images were linked from other sites and belong to them. Many thanks to their original creators.