Day:
September 14, 2017
Coffee: a drink made from the roasted and ground bean-like seeds of a tropical shrub, served hot or iced
Since we leave on our North Carolina road trip very shortly, my focus the next few days is planning the final itinerary, closing up edits on the novel and packing. I also need to start shortening my posts since I only plan to post a picture, select the word that comes to mind and riff about it for a few hundred words. Oh, there's a good word for tomorrow: riff.  And ultimately, we all need a vacation sometimes, don't judge me!  But today is all about the coffee. I was overly tired this morning and stared at the coffee pot as it dripped, waiting for the luscious flavor to wake me up. I wondered how others feel about coffee…
Many of my online friends are clearly tea drinkers, so I will perhaps focus on tea as the 365 Daily Challenge word in the future. As for coffee, my earliest memory of it was going out to the diner with my grandparents when I was about 8 or 9, asking for my own cup. I was not allowed to drink it at that age, often told it would stunt my growth. I vividly recall coming back from the doctor one day after he told me I'd probably grow to about 5'11. I continued to beg for coffee (maybe that's where Ryder gets his begging from…), which eventually led to a small compromise. My grandfather would pour the creamer from those tiny little cups into his coffee, then pour coffee into the creamer cup for me. It was smaller than a shot glass, but I felt so special that I was able to drink coffee with the adults. I all honesty, I've been an adult even when I was a child. I skipped over childhood for some reason — I think I just liked socializing around my older family members rather than cousins or even friends sometimes. I was am weird. We've all got problems, right?
Anyway, the doctor was wrong. I topped out at 5'7 which has always bothered me. I wanted to be 5'10 or 5'11. I blame the coffee. What else could it be? Silly genetics? No one else in my family was tall. Ah, coffee, I'm easily distracted again today. My mom drank Folgers so I drink Folgers, but I'm open to almost anything. She yells at me now when I buy a canister in my grocery store which usually retails for about $6.50. I'm too lazy to check the size, but you probably know it — typical canister of coffee. OK, fine, I went to check: 11.3 ounces or 320 grams. You can't call me lazy anymore. She now buys it for me on Long Island and delivers a few bags when she visits on Sundays. I think she gets it on sale for around $2.99. How awful is that price difference? Better yet, it's probably even less in other parts of the country. There's a whole different post one day… how can prices vary that much??? Yikes, I am all over the place today. Go ahead and laugh.
W likes Community Coffee from Louisiana, so we occasionally buy a few bags and have them shipped. His stepmother once sent us a huge bag, and it was really good. I had tried it when I was down there, but you can never tell from one cup, plus my memory is bad with those types of things — unless we talk about it, I forget it. I have too much to remember about characters and plots to even try to hold on to the mundane things like which coffee I like, how to put my socks on, you need to put the key in the door before you turn the knob… We even ground our own beans from that bag, which is definitely a fun thing to do. Thank you Joni if you are reading this!!!
I'm a 3 to 4 cup kinda guy each morning. I use a fat free hazelnut or french vanilla creamer, which means I don't need to use any sugar either. Sometimes I'll have another cup in the afternoon if I need a pick me up. Rarely at night. Not sure how/why I'd drink coffee after dinner, seems like it would wake you up more than increase your metabolism so your dinner is processed for sleeping. Eh, what do I know? Anyone have a good reason for nighttime coffee? Better question… anyone know how coffee was invented? It didn't just suddenly show up in a cup on some office worker's desk one day. I think I have some research to do while I'm on the plane. Unless we can all agree coffee was just materialized into a cup one day by someone brilliant named Mr. Coffee and leave it at that. If there can be a Mr. Burpee, there can be a Mr. Coffee.
The point today of this post… how does everyone else like their coffee? I'm pretty open-minded when it comes to drinking this beverage of choice. I can't handle it straight black, just a little too bitter for me. I've slowly been able to stop adding a teaspoon of sugar and just include milk or creamer. Beyond that, anything's fair game. I'm not a coffee snob, but I do appreciate those who are. I find it respectable! Tell me more as I want to try a few new things. When do you drink it? Hot or cold? How many cups? What brands? What roasts? What do you put in it? Grind or no grind? What coffee shops do you love or hate? Do you go for all the fancy stuff or just plain dark coffee? Looking forward to all your responses! Thanks in advance.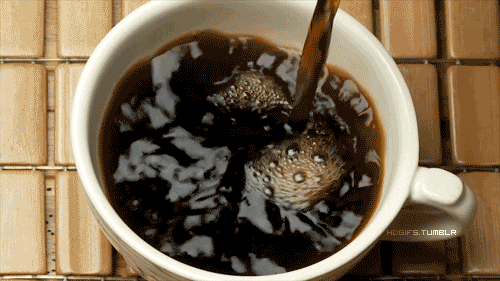 About Me & the "365 Daily Challenge"
I'm Jay and I live in NYC. By profession, I work in technology. By passion, I work in writing. I've always been a reader. And now I'm a daily blogger. I decided to start my own version of the "365 Daily Challenge" where since March 13, 2017, I've posted a characteristic either I currently embody or one I'd like to embody in the future. 365 days of reflection to discover who I am and what I want out of life.
The goal: Knowledge. Acceptance. Understanding. Optimization. Happiness. Help. For myself. For others. And if all else fails, humor. When I'm finished in one year, I hope to have more answers about the future and what I will do with the remainder of my life. All aspects to be considered. It's not just about a career, hobbies, residence, activities, efforts, et al. It's meant to be a comprehensive study and reflection from an ordinary man. Not a doctor. Not a therapist. Not a friend. Not an encyclopedia full of prior research. Just pure thought, a blogged journal with true honesty.
Join the fun and read a new post each day, or check out my book reviews, TV/Film reviews or favorite vacation spots. And feel free to like, rate, comment or take the poll for each post. Note: All written content is my original creation and copyrighted to me, but the graphics and images were linked from other sites and belong to them. Many thanks to their original creators.