Round 1 Edits are complete. I've even incorporated a few pieces of feedback on the first two chapters from the beta reading team. I feel sadness over putting the novel on hiatus for two weeks, but the break will give me the energy boost when I return from vacation to power through the next phase. In the meantime, this will be the last Father Figure update until Friday 10/6. For now, I am thrilled to present Father Figure's weekly status:
Status:  Friday, September 15, 2017 – Week #11
Round 1 Edit – The First Draft

All grammar and spelling has been corrected to the best of my ability. I plan to step away for a few weeks and look at it again with a fresh set of eyes, as I know I'll find a few minor updates once I'm relaxed. Those types of items will be easy to fix in Round 2 Editing.
I removed 5% of the pages / content, leaving me at 378 pages and 112K words. I know I have another 5% that will need to be cut to clean up excess wordiness, but I plan to wait until after beta readers have some input before I slash and burn!
I corrected 95% of the perspective or point of view (POV) issues that I could find. I'll fix the remaining ones after receiving beta feedback as depending on whether I keep a few small sections, the POV issues may disappear on their own.
Character and setting descriptions have been enhanced and made consistent throughout all chapters.
It will be released to a few beta readers this evening!

Next Steps: Plan for Next Few Weeks
Vacation: 9/17 thru 10/2 – No work to be done on Father Figure.
Round 2 Edits (beta feedback incorporation) will occur from 10/3 thru 10/20.

What's on the author's mind?
I am looking forward to putting this out of my focus for two weeks, but I'm also looking forward to jumping right back in on 10/3 to review beta feedback and begin Round 2 Editing. I hope it only takes 2 to 3 weeks to finish this effort, as I'd like to send it to agents and the publisher in early November, pending how much remaining work I have to do with Watching Glass Shatter, my first novel. I'm really excited to think about this second one coming to a conclusion, but also shocked that it will have taken just under 4 months to dream, write and edit a ~375 page novel.
In October, it will be time to start thinking about novel #3. I already have ideas, but I will not let myself work on it until  Watching Glass Shatter is on on the market and the initial 30 days of advertising and sales have occurred. Anyone interested in participating in another poll again to let readers and fans pick the third novel?
In November, Book Reviews, Blog Tours and Interviews will be the priority for Watching Glass Shatter, but I will also prepare an outline for novel #3. While Watching Glass Shatter starts to enter normal reader mode, around 12/1, I'd like to start writing again, assuming Father Figure's edits are complete and in final stage review with the publisher.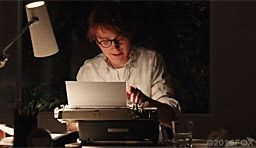 _____________________________________________________________________________________
Summary of Father Figure (only read if you're new to the book)
Amalia Graeme, sheltered and abused for most her life in Mississippi, longs to escape her difficult family and small hometown in 1984. When her older brother returns with his best friend, Amalia is tempted to have her first experience with a boy that summer. As they head off to college for her first year and his senior year, she begins to learn about life and love, battling her loss of innocence with the attraction she's developed to an older professor. After she suffers a few personal tragedies, Amalia is forced to head back home, uncertain how to handle the permanent impacts on her life and future. No matter where she turns, someone or something always takes away her possibility of hope.
Brianna Porter is desperate to discover the purpose of her life, develop confidence in who she is, accept the consequences of who she has fallen in love with, and discover her father's identity. Set twenty years in the future in New York City, there's a connection between these two women's stories that is about to be discovered. As Brianna stumbles upon her mother's old journal, she learns a shocking secret about her father, rocked by a truth that could completely change the future. It may be too late to deal with the impacts of unleashing a history that was meant to stay buried for many reasons. When it leads to someone's death, Brianna must come to terms with the choices she's made and what is left of her own future.
About Me
I am a writer. I am have signed a contract for a publisher on my first book, Watching a Glass Shatter. To see more, please check out the website for this novel where you will find the first 3 chapters, character bios and sample quotes.
I am writing my second novel, Father Figure, with plans to finish and submit it to a publisher in November, 2017. As part of the process to engage with my fans and followers, I am publishing a weekly status on the progress of this second book. For a description of this book, check out the post where my friends and followers voted for this book as my second novel.
Beyond these two books, I have a number of short stories, poems and other novels in various shapes and forms. I also read A LOT. First the book review goes on Goodreads, and then I send it on over to my WordPress blog at https://thisismytruthnow.com, where you'll also find TV & Film reviews, Tags, Awards, Age/Genre/Book Reads and Author Spotlights, as well as the revealing and introspective 365 Daily Challenge.
You can also access my social media profiles to get the details on the who/what/when/where and my pictures. Leave a comment and let me know what you think. Vote in the poll and ratings. Thanks for stopping by. Note: All written content is my original creation and copyrighted to me, but the graphics and images were linked from other sites and belong to them. Many thanks to their original creators.