Pie: a baked dish of fruit, or meat and vegetables, typically with a top and base of pastry
Earlier today, I had coffee/tea with a wonderful friend I met via blogging. We talked about the book launch, each other's blogs, ways to promote, life's fun happenings and the way people behave in real-life. It was a fun conversation and I'm glad to know her. As I was walking home, about 40 NYC blocks, I passed a number of restaurants who must have been serving dessert. All I could smell was different baked goods — mostly pies! I have never been a big pie guy. I love cake and cookies, but pies usually meant mushy fruits in soggy crusts. My mom bakes good pies, which I enjoy. But when I order dessert, it's rarely pie. They all smelled delicious today, but why is that today's 365 Daily Challenge word, you ask? {Hopefully someone did and I'm not just hearing things} Because I realized the way I feel about pie is often the way I feel about people. Bear with me a minute here…
Sometimes people are hard and crusty on the outside. Protective of all the wonderful things inside their minds. They might be cross on the outside or just have a tiny little opening to let out some steam when necessary. Sometimes they are mushy once you really dig in to get to know them. They can be sweet or tart. They can be full of color or drab. They can also surprise you. Sometimes the way a whole pie looks on the outside is very different than the way one slice appears once you cut into it. There are so many varieties, some you like and some you don't like. But in the end, rarely are they ever exactly alike.
I'm not a fan of meat in pies as a general rule. I eat them, but I don't call them pie. I call them quiche or Beef Wellington or Chicken Pot Pie. But when we're talking about the sweet kinds of pies… Cherry. Pumpkin. Apple. Lemon Meringue. Just to name a few. Then I'm interested in a really well-baked pie. Either I am craving desserts or my mind is playing tricks on me. I really want pie right now. Maybe I'm just out of 365 Daily Challenge words. Or maybe I'm so distracted by everything on my plate, even little things like pie are easily able to steal my attention. It is autumn, also known as pie-baking season, right? Nonetheless, rules are rules. I wrote about pie. I cannot delete anything. So I'm left with asking all of you:
What's your favorite kind of pie?
Is it time for me to bake a pie this weekend?
Do you have any suggestions on words for a future 365?
I'm asking for a friend. I'd never admit to being stumped. Also, I'm heading to the bakery for some before-dinner pie. For a friend. Have a nice evening.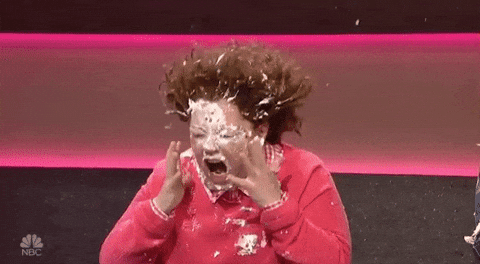 I just love Melissa McCarthy
About Me & the "365 Daily Challenge"
I'm Jay, an author who lives in NYC. My debut novel, Watching Glass Shatter, can be purchased on Amazon @ http://mybook.to/WGS. I've always been a reader. And now I'm a daily blogger. I decided to start my own version of the "365 Daily Challenge" where since March 13, 2017, I've posted a characteristic either I currently embody or one I'd like to embody in the future. 365 days of reflection to discover who I am and what I want out of life.
The goal: Knowledge. Acceptance. Understanding. Optimization. Happiness. Help. For myself. For others. And if all else fails, humor. When I'm finished in one year, I hope to have more answers about the future and what I will do with the remainder of my life. All aspects to be considered. It's not just about a career, hobbies, residence, activities, efforts, et al. It's meant to be a comprehensive study and reflection from an ordinary man. Not a doctor. Not a therapist. Not a friend. Not an encyclopedia full of prior research. Just pure thought, a blogged journal with true honesty.
Join the fun and read a new post each day, or check out my book reviews, TV/Film reviews or favorite vacation spots. And feel free to like, rate, comment or take the poll for each post. Note: All written content is my original creation and copyrighted to me, but the graphics and images were linked from other sites and belong to them. Many thanks to their original creators.