Stranger: a person whom one does not know or with whom one is not familiar
'Stranger' is one of those words that immediately evokes something negative in my mind. We tell children to stay away from people they don't know. We doubt the honesty of someone we do not recognize. New or weird things encourage fear and nervousness. It's probably healthy to have a normal level of apprehension over those things that feel strange to us. Where I try to push myself in these areas is to look at how I can convert the negative into the positive whenever I've deemed something I interact with as 'strange.' It certainly doesn't work in all cases, e.g. children should always stay far away from people they do not know unless a familiar and friendly adult is also with them. But we should push ourselves to try new things in case we eventually find something we actually like or find a way to become comfortable in a slightly stretched out skin.
In the past, I was uncomfortable meeting new people because I didn't know what to say or do. I don't like small talk. I felt awkward figuring out topics. Although I love silence when I'm alone, it's not a good feeling with someone you don't know. While I am still a little uncertain at times around others I've just met, blogging has taken this fear away in many ways. I no longer worry about what to talk about with a stranger. I have so many new topics and ideas from everyone here, plus my confidence and voice have become stronger. It's turned into a positive experience now when I meet someone new and find a way to bond or connect, even on something trivial or fleeting.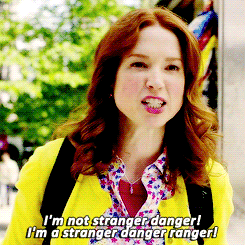 On the flip side, when I walk down the street, if someone I do not know tries to talk to me, I am immediately uncomfortable. 'Stranger Danger' flashes in my mind — and I'm an adult. The world we live in today is a scary place and I always worry that I need to look over my shoulder. Living in NYC in some ways gives you quite a thick skin; you learn to watch for things more acutely as there are more people and very different people around you at all times. Different in terms of attracting every sort of person from all industries, all walks of life and all hopes and dreams. If I lived in a smaller town, I might not worry when a random stranger walked up to me; that's often considered normal. It's not the case here, but it's also something I learn to handle each and every day.
It's scary when an incident like yesterday's NYC terrorist attack happened several blocks away from me; it also reminds me to be leery of strangers as much as I am trying to find a way to open up to new people. I also don't want to put on a mask of fear every time I walk out the door. In the end, I try to find balance in being safe, taking educated risks and keeping my guard up when someone new approaches me. Strangers live all around us. Many are good people. Many are just as afraid of us as we are of them. Sometimes it's worth taking a chance to get to know the stranger who might end up becoming your friend or confidante.
Credit for today's 365 Daily Challenge once again goes to Janet for suggesting this word. It took on a different meaning this week for me. Isn't Janet great?
About Me & the "365 Daily Challenge"
I'm Jay, an author who lives in NYC. My debut novel, Watching Glass Shatter, can be purchased on Amazon @ http://mybook.to/WGS. I've always been a reader. And now I'm a daily blogger. I decided to start my own version of the "365 Daily Challenge" where since March 13, 2017, I've posted a characteristic either I currently embody or one I'd like to embody in the future. 365 days of reflection to discover who I am and what I want out of life.
The goal: Knowledge. Acceptance. Understanding. Optimization. Happiness. Help. For myself. For others. And if all else fails, humor. When I'm finished in one year, I hope to have more answers about the future and what I will do with the remainder of my life. All aspects to be considered. It's not just about a career, hobbies, residence, activities, efforts, et al. It's meant to be a comprehensive study and reflection from an ordinary man. Not a doctor. Not a therapist. Not a friend. Not an encyclopedia full of prior research. Just pure thought, a blogged journal with true honesty.
Join the fun and read a new post each day, or check out my book reviews, TV/Film reviews or favorite vacation spots. And feel free to like, rate, comment or take the poll for each post. Note: All written content is my original creation and copyrighted to me, but the graphics and images were linked from other sites and belong to them. Many thanks to their original creators.