Day:
December 25, 2017
Squeaky: short, shrilly cry or noise; squeal
I was tempted to share a wonderful version of my friends singing Jingle Bells, but I wasn't sure how you'd feel about an all-dog choir. We might sound a bit squeaky, so I skipped it. Instead, I wish to each of you, via my words, many happy holidays this week, whether you celebrate Christmas, Hannukah, Kwanzaa or anything else I'm not familiar with (tell me, so I know in the future, please). We had our celebration last night, where I received two gifts, plus a bunch of treats. I also received three special gifts in the mail this week. They all have a different squeak to them, and that's why today's word is squeaky — but it's driving me nuts. Can't anyone be quiet on the holidays? Meet my new friends who may not last very long if they keep this racket up:
Foxy

: Grandma gave me Foxy because I look a lot like him! We played a lot when she was visiting last weekend.

Squirrel

: She doesn't have a name yet, but soon… I like to chase them, so maybe Chase!

Bunny

: I received Bunny from my friends Murphy and Ophe in Michigan. He's very heavy and I can't throw him all that far, which is good… the tree is safe for now!

Santa

: This one makes so much noise, and it sneak attacks me with its twisty head. Santa beat me up yesterday and I was so angry I sat on him for an hour.

Hammy

: I had fun unwrapping hammy because it squeaked the whole time I tore at the paper. If only it were real.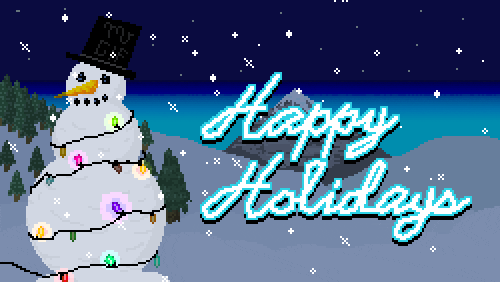 I had a wonderful dinner last night before I left with Ella this morning. I stay with her at Christmas since the Dads leave on their trip this afternoon. They made me beef wellington, honey & thyme carrots, and Pommes Anna. Julia Child is always visiting this house! They even had a wonderful Christmas pudding from a very special English friend. I'm pretty certain they also had a few holiday drinks and a bottle of red wine; I personally don't touch that liquor stuff, I'm a Prohibitionist — yet they drink like the fishes. In the immortal words of my favorite new friend, Patty Hogg, from the Amy Sedaris show: I'VE SAID TOO MUCH, I'VE SAID TOO MUCH. Click the link if you want to see what Dads have been watching all week long.  They exchanged presents, too. This is what I bought them for the terrace:
It's time for me to unpack my bags for this 5 day stay… happy holidays! See you all for New Year's Day next week!
About Me & the "365 Daily Challenge"
I'm Jay, an author who lives in NYC. My debut novel, Watching Glass Shatter, can be purchased on Amazon @ http://mybook.to/WGS. I've always been a reader. And now I'm a daily blogger. I decided to start my own version of the "365 Daily Challenge" where since March 13, 2017, I've posted a characteristic either I currently embody or one I'd like to embody in the future. 365 days of reflection to discover who I am and what I want out of life.
The goal: Knowledge. Acceptance. Understanding. Optimization. Happiness. Help. For myself. For others. And if all else fails, humor. When I'm finished in one year, I hope to have more answers about the future and what I will do with the remainder of my life. All aspects to be considered. It's not just about a career, hobbies, residence, activities, efforts, et al. It's meant to be a comprehensive study and reflection from an ordinary man. Not a doctor. Not a therapist. Not a friend. Not an encyclopedia full of prior research. Just pure thought, a blogged journal with true honesty.
Join the fun and read a new post each day, or check out my book reviews, TV/Film reviews or favorite vacation spots. And feel free to like, rate, comment or take the poll for each post. Note: All written content is my original creation and copyrighted to me, but the graphics and images were linked from other sites and belong to them. Many thanks to their original creators.