Day:
December 31, 2017
Why This Book 
I connected with the author a few months ago and liked the summary of her book. While it was free, I downloaded it, knowing I liked mystery series and would want to give it a try. In a quest to close on all open items on my TBR before January 2018 finishes, I read this one on a plane ride home from a Christmas trip to visit family. And I'm glad I did; it's got lots of potential.
Plot, Characters & Setting 
Detective Lyn Kramer, ~32ish, works in a small town training her newest junior detective, who happens to be a few years older than her. There's a spark between them, but she's ignoring it while she's trying to end another dead-end relationship. When a missing persons case is dropped on her at the last minute, she gets quite a surprise as the woman is her dead ringer. We later learn it's her twin sister, and they were separated at a young age when their parents died of a drug overdose. There's a lot more going on in this story, connected to her family's past in the mob, and her grandfather's hatred for his in-laws. As Lyn searches for her sister, she confronts a past that tormented her family, slowly learning the truth of what happened all those years ago.
Approach & Style 
This is a novella, on the shorter side of the scale, but it's a good entry point for a new series. It gives the reader an opportunity over a ~2 hour period to decide if the characters, setting and voice work for their personal style. I read on my iPad through Kindle Reader.
Thoughts 
Besides the author being an absolutely wonderful person from a few chats we've had, the book series is quite promising. I was engaged by the plot and the mystery. I liked the family drama aspects of the story. I found the relationships quite curious, especially how Lyn treats her current boyfriend (or he treats her – yikes!) and what could happen with Jud, her new partner. The writing is clean and easy to digest, presents a picture, but lets you add your own imagination to some of the setting. The suspense factor began building in various chapters. For a debut, I think this could turn into something that I look forward to reading as each new book is launched. Kudos to Ann Jones for delivering a strong first book that has all the elements of a fine mystery series.
There were a few areas that were a bit vague or open-ended, and the full background seems to be missing (no pun intended!) a few important details, but I'm not going to question it right now… as sometimes that's the point in a mystery series. You can't reveal everything all at once, so those details will pop up when necessary in future books, I suspect. Twins makes things fun. A girl raised by her grandfather will add a different layer to the story. And Lyn has edge… so this was a good read for me.
Summary 
I will definitely continue with this series. For a debut, it has a lot of promise to deliver quality stories with memorable characters. We've gotten a small flavor for a handful and I look forward to seeing how it progresses.
About Me
For those new to me or my reviews… here's the scoop: I'm Jay, an author who lives in NYC. My debut novel, Watching Glass Shatter, can be purchased on Amazon. I write A LOT. I read A LOT. And now I blog A LOT. First the book review goes on Goodreads, and then I send it on over to my WordPress blog at https://thisismytruthnow.com, where you'll find the revealing and introspective 365 Daily Challenge – words and humor. You can also find all my social media profiles to get the details on the who/what/when/where and my pictures. Leave a comment and let me know what you think. Thanks for stopping by. Note: All written content is my original creation and copyrighted to me, but the graphics and images were linked from other sites and belong to them. Many thanks to their original creators.
Follow my blog with Bloglovin.
New Year's: the time at which a new calendar year begins and the calendar's year count increments by one. Many cultures celebrate the event in some manner and the 1st day of January is often marked as a national holiday
Sundays are LIST days and today is no different. For this group of 5 Sundays, I chose holidays and now we're in our final week. I've gone with New Year's because that's what happens tonight into tomorrow — and it's a perfect ending to this holiday list. Let's explore why I love this holiday:
It's a new beginning.
It's a time to remember and reflect.
You can embrace change.
I love the song 'Auld Lang Syne'
I have a few traditions, like holding money and ensuring the house is cleaned up with no outstanding laundry and a fully stocked food supply.
I have fun memories of my father and I banging pots at midnight when I was a child.
I live in NYC but will NEVER EVER go to Times Square.
I don't really eat any traditional foods — none are very tasty from what I know of.
Watching the BALL drop on the TV.
Resolutions.
Off from work.
The possibility of a whole new approach to things.
A truly defining marker.
Hope for things yet to come.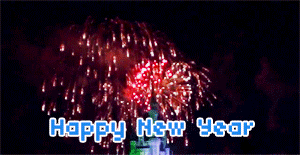 I prefer to be at home. I have this weird moment as the ball begins to drop where I want and hope to be perfect starting at midnight… eat healthy, no drinking, say and think positive things, behave, just do everything right! As I get older, I realize that it's not about picking a moment to change, it's about incorporating it one by one into your lifestyle in healthy ways. But ever since I was a child, it was always a game to see how long I could hold on in the new year. Now that I'm no longer a child, though at times I like to think I am (ha!), it's more about that breathtaking moment when the ball drops — to tell myself how lucky I am, kiss the one I love and wish for the brilliance of tomorrow. For me, that's all about being in the comforts of home, or with a very small crowd, where it feels cozy.
How do you feel about New Year's Eve or Day? Do you celebrate in any special way?
————————————————————-
Sunday posts, the end of each week, have become a theme on This-Is-My-Truth-Now, often organized by groups of five (5) focused on interesting things about my life. I'm continuing the trend of the seventh day, ending the week on Sunday, as a list (we know I love them) that provides more in depth knowledge about me. Past weeks included:
Weeks 1 – 5: Primary ethnicity groups and nationalities
Weeks 6 – 10: A to Z Favorites
Weeks 11 – 15: Colors with an important meaning
Weeks 16 – 20: Cities I've lived
Weeks 21 – 25: Jobs I've held
Weeks 26 – 30: Top 10 entertainment options
Week 31: How to follow or contact me across all social media platforms
Week 32: How to help an artist with promotion
Week 33 – 37: Favorite Book Genres
Week 38 – 42: Holidays
Week 43 – 47: TBD
Week 48 – 52: TBD
About Me & the "365 Daily Challenge"
I'm Jay and I live in NYC. By profession, I work in technology. By passion, I work in writing. I've always been a reader. And now I'm a daily blogger. I decided to start my own version of the "365 Daily Challenge" where since March 13, 2017, I've posted a characteristic either I currently embody or one I'd like to embody in the future. 365 days of reflection to discover who I am and what I want out of life.
The goal: Knowledge. Acceptance. Understanding. Optimization. Happiness. Help. For myself. For others. And if all else fails, humor. When I'm finished in one year, I hope to have more answers about the future and what I will do with the remainder of my life. All aspects to be considered. It's not just about a career, hobbies, residence, activities, efforts, et al. It's meant to be a comprehensive study and reflection from an ordinary man. Not a doctor. Not a therapist. Not a friend. Not an encyclopedia full of prior research. Just pure thought, a blogged journal with true honesty.
Join the fun and read a new post each day, or check out my book reviews, TV/Film reviews or favorite vacation spots. And feel free to like, rate, comment or take the poll for each post. Note: All written content is my original creation and copyrighted to me, but the graphics and images were linked from other sites and belong to them. Many thanks.