New Year's: the time at which a new calendar year begins and the calendar's year count increments by one. Many cultures celebrate the event in some manner and the 1st day of January is often marked as a national holiday
Sundays are LIST days and today is no different. For this group of 5 Sundays, I chose holidays and now we're in our final week. I've gone with New Year's because that's what happens tonight into tomorrow — and it's a perfect ending to this holiday list. Let's explore why I love this holiday:
It's a new beginning.
It's a time to remember and reflect.
You can embrace change.
I love the song 'Auld Lang Syne'
I have a few traditions, like holding money and ensuring the house is cleaned up with no outstanding laundry and a fully stocked food supply.
I have fun memories of my father and I banging pots at midnight when I was a child.
I live in NYC but will NEVER EVER go to Times Square.
I don't really eat any traditional foods — none are very tasty from what I know of.
Watching the BALL drop on the TV.
Resolutions.
Off from work.
The possibility of a whole new approach to things.
A truly defining marker.
Hope for things yet to come.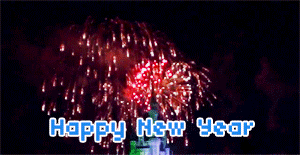 I prefer to be at home. I have this weird moment as the ball begins to drop where I want and hope to be perfect starting at midnight… eat healthy, no drinking, say and think positive things, behave, just do everything right! As I get older, I realize that it's not about picking a moment to change, it's about incorporating it one by one into your lifestyle in healthy ways. But ever since I was a child, it was always a game to see how long I could hold on in the new year. Now that I'm no longer a child, though at times I like to think I am (ha!), it's more about that breathtaking moment when the ball drops — to tell myself how lucky I am, kiss the one I love and wish for the brilliance of tomorrow. For me, that's all about being in the comforts of home, or with a very small crowd, where it feels cozy.
How do you feel about New Year's Eve or Day? Do you celebrate in any special way?
————————————————————-
Sunday posts, the end of each week, have become a theme on This-Is-My-Truth-Now, often organized by groups of five (5) focused on interesting things about my life. I'm continuing the trend of the seventh day, ending the week on Sunday, as a list (we know I love them) that provides more in depth knowledge about me. Past weeks included:
Weeks 1 – 5: Primary ethnicity groups and nationalities
Weeks 6 – 10: A to Z Favorites
Weeks 11 – 15: Colors with an important meaning
Weeks 16 – 20: Cities I've lived
Weeks 21 – 25: Jobs I've held
Weeks 26 – 30: Top 10 entertainment options
Week 31: How to follow or contact me across all social media platforms
Week 32: How to help an artist with promotion
Week 33 – 37: Favorite Book Genres
Week 38 – 42: Holidays
Week 43 – 47: TBD
Week 48 – 52: TBD
About Me & the "365 Daily Challenge"
I'm Jay and I live in NYC. By profession, I work in technology. By passion, I work in writing. I've always been a reader. And now I'm a daily blogger. I decided to start my own version of the "365 Daily Challenge" where since March 13, 2017, I've posted a characteristic either I currently embody or one I'd like to embody in the future. 365 days of reflection to discover who I am and what I want out of life.
The goal: Knowledge. Acceptance. Understanding. Optimization. Happiness. Help. For myself. For others. And if all else fails, humor. When I'm finished in one year, I hope to have more answers about the future and what I will do with the remainder of my life. All aspects to be considered. It's not just about a career, hobbies, residence, activities, efforts, et al. It's meant to be a comprehensive study and reflection from an ordinary man. Not a doctor. Not a therapist. Not a friend. Not an encyclopedia full of prior research. Just pure thought, a blogged journal with true honesty.
Join the fun and read a new post each day, or check out my book reviews, TV/Film reviews or favorite vacation spots. And feel free to like, rate, comment or take the poll for each post. Note: All written content is my original creation and copyrighted to me, but the graphics and images were linked from other sites and belong to them. Many thanks.