Day:
January 3, 2018
Why This Book 
I was lucky enough to win a contest I'd entered last month. I received the book as a giveaway and needed a lighthearted mystery when the new year started.
Plot, Characters & Setting 
Maggie moves back home to Canada from Great Britain after a few painful events. When she arrives, she needs to settle her parents estate and immerse herself among the people she grew up with. Unfortunately, the town is in a bit of disarray, and a body is discovered on her property. As she tries to set up her new photography business, Maggie teams up with 'Ranger' Adam to help solve the case, as the local police don't seem very skilled when she interacts with them post-murder. In the end, she solves the case and begins to develop her new life back home.
Approach & Style 
I read a ~220 page physical copy in 3 hours over the course of two days. There are 28 chapters, each relatively short, written in a third-person POV somewhere between limited and omniscient, as you jump around from different character perspectives to understand everything happening behind the scenes with the murder. It's a bit atypical for a cozy, at least the ones I've read, which tend to only focus on the main character's POV. Interesting approach, as it helps give you different perspective. Not sure how I feel about it yet, but I'd give another one a try to determine my thoughts…
Key Thoughts 
For a debut, it's a good read. I'd probably give it a 3 to a 3.5 rating, as there were parts I connected with, but there were also some where I struggled to get invested in either Maggie or the actual murder. It has all the right elements, but something was missing from being a really strong and intense read. I would consider another one, pending the plot and scope of the story. I'm curious to see how others feel about this book. It reads very quickly, which shows the writing is good; however, at times it felt stilted or flat — almost like things were happening because they were supposed to happen, and not necessarily the most interactive way for readers. An example was the way Maggie took control of the police department's case; she is smart and was able to help drive to the conclusion, but I am not sure I understand why she was invested or allowed to take it so far on her own. She approached her quest to solve the case as if she were ticking off a list of items, telling readers some details but not all that was in her mind. She felt like the police detective, not the actual cops. I'm sure as the series progresses, this will become a charming element, but it wasn't as endearing in the beginning when I haven't totally invested in Maggie as a character, not knowing her whole background (can I trust her?). That said, I do like the setting and the set of extended characters — I see potential. I enjoyed the friendship between Adam and Maggie, as well as Amy and Maggie. I also find the mayor intriguing, as she's definitely a big ball of grey on situations… she could be bad, she could be good… only time will tell!
Summary 
Many thanks to the author, publisher, and Review Crew for the opportunity to read this book. I'm glad to kick the year off with this cozy and look forward to seeing other reviews. It's set in Canada, which was a new one for me! I always enjoy learning about other places and the details of what makes them tick. Good luck to the author.
About Me
For those new to me or my reviews… here's the scoop: I'm Jay, an author who lives in NYC. My debut novel, Watching Glass Shatter, can be purchased on Amazon. I write A LOT. I read A LOT. And now I blog A LOT. First the book review goes on Goodreads, and then I send it on over to my WordPress blog at https://thisismytruthnow.com, where you'll find the revealing and introspective 365 Daily Challenge – words and humor. You can also find all my social media profiles to get the details on the who/what/when/where and my pictures. Leave a comment and let me know what you think. Thanks for stopping by. Note: All written content is my original creation and copyrighted to me, but the graphics and images were linked from other sites and belong to them. Many thanks to their original creators.
Follow my blog with Bloglovin.
Credit: (a) publicly acknowledge someone as a participant in the production of something published or broadcast, (b) an entry recording a sum received, listed on the right-hand side or column of an account, or (c) the ability of a customer to obtain goods or services before payment, based on the trust that payment will be made in the future
As I pulled up the covers last night, my mind focused on a few inspirational items from a book I finished over the weekend (review coming in the next 24 hours), all related to the word credit. I opened my phone, placed an entry for today's log and went to sleep. When I woke up, I had my 365 Daily Challenge word for today — easy, huh? A few reasons this word appeals to me:
None of us achieve our goals by ourselves. Someone is always supporting us, or providing advice, to help along the journey. Always give them credit.
I'm a math guy, and so the concept of debits and credits are frequently on my mind. I once thought I'd be an accountant, but I decided I would rather manage my own finances than someone else's. Who wants that responsibility? 😛
I had my first credit card when I was 18, but I was scared to use it, even though I had jobs and could pay it off each month. Years later, I still always think twice before using it to make a purchase, even when it's as simple as a cup of coffee. I've been trained to check my credit report a few times a year. When I did last week, the Internet stopped working for a few seconds, and it paused on a very low number. Picture that dial rising from 0 to 900, but stopping in the first quartile… I think I had a mini-stroke — at least until it refreshed itself and went back to where I expected it to be. Wow, that was a moment!
I banked at a credit union instead of a bank for a long time. I never really saw any difference, but it meets the definition of today's word. I don't anymore, but why is everything so complicated! It's money. Put it somewhere safe. Don't call yourself tons of different names. 😛  (okay, that's an exaggeration)
Harry Truman said:

It is amazing what you can accomplish if you do not care who gets the credit.
Ain't that the truth?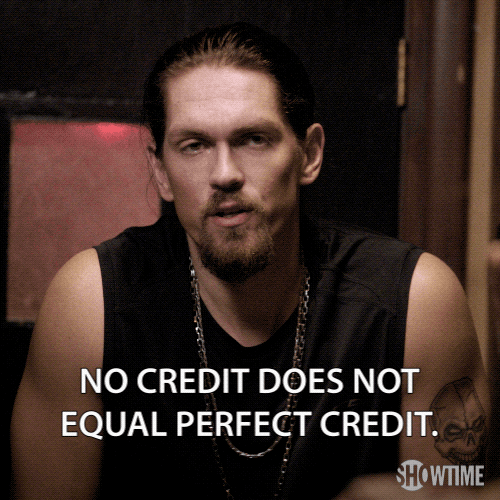 I've always tried to follow these guidelines, but I think as part of 2018, they should be more prevalent…  more on those thoughts coming in my review of that inspirational book I mentioned… maybe I should write the review while I'm thinking about it!
About Me & the "365 Daily Challenge"
I'm Jay, an author who lives in NYC. My debut novel, Watching Glass Shatter, can be purchased on Amazon @ http://mybook.to/WGS. I've always been a reader. And now I'm a daily blogger. I decided to start my own version of the "365 Daily Challenge" where since March 13, 2017, I've posted a characteristic either I currently embody or one I'd like to embody in the future. 365 days of reflection to discover who I am and what I want out of life.
The goal: Knowledge. Acceptance. Understanding. Optimization. Happiness. Help. For myself. For others. And if all else fails, humor. When I'm finished in one year, I hope to have more answers about the future and what I will do with the remainder of my life. All aspects to be considered. It's not just about a career, hobbies, residence, activities, efforts, et al. It's meant to be a comprehensive study and reflection from an ordinary man. Not a doctor. Not a therapist. Not a friend. Not an encyclopedia full of prior research. Just pure thought, a blogged journal with true honesty.
Join the fun and read a new post each day, or check out my book reviews, TV/Film reviews or favorite vacation spots. And feel free to like, rate, comment or take the poll for each post. Note: All written content is my original creation and copyrighted to me, but the graphics and images were linked from other sites and belong to them. Many thanks to their original creators.