Pendulum:  (a) weight hung from a fixed point so that it can swing freely backward and forward, especially a rod with a weight at the end that regulates the mechanism of a clock, or (b) used to refer to the tendency of a situation to oscillate between one extreme and another
Today's 365 Daily Challenge word is pendulum as I can feel my mind swaying back and forth while trying to decide a few future steps. The pendulum has always fascinated me whether it was one of Edgar Allan Poe's stories, The Pit and the Pendulum, or watching the mechanics of a grandfather clock operate behind an ornate glass window. It's as if I've come to a decision on something I want to do, but fast-forward a few hours, I change my mind. By the next morning, I'm back to supporting the original thought. After a few minutes, my body begins to sway a little while I'm working my way through the thought process. It's a case of the body following suit in the actions of the mind without even knowing it. None of it's serious… things like the future of 365, where to go on a short weekend getaway, etc.
The ironic things for me in choosing this words is that pendulum isn't a very common word in normal daily vocabulary. Perhaps if you work in engineering, it might be used more frequently… but not for me. It's a fine balance of weight, angle, gravity, force… all those things we learned in physics in high school. I remember some, but not all. I'm fascinated by the patterns it follows, as in the example below. I'm curious how the slightest puff of air might motivate an alternative path. It's not unlike life… you're set in one way, but often easy to change direction. I'm not sure where I intended today's word to go, but as I've said before, I pick the word, write what comes to mind and only go back to correct spelling and grammar (and even then I miss a few things)!
I think I'd like a grandfather clock… that's what this all means today. W…. we need to go shopping!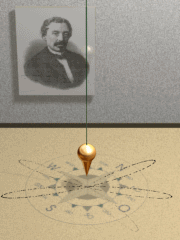 About Me & the "365 Daily Challenge"
I'm Jay, an author who lives in NYC. My debut novel, Watching Glass Shatter, can be purchased on Amazon @ http://mybook.to/WGS. I've always been a reader. And now I'm a daily blogger. I decided to start my own version of the "365 Daily Challenge" where since March 13, 2017, I've posted a characteristic either I currently embody or one I'd like to embody in the future. 365 days of reflection to discover who I am and what I want out of life.
The goal: Knowledge. Acceptance. Understanding. Optimization. Happiness. Help. For myself. For others. And if all else fails, humor. When I'm finished in one year, I hope to have more answers about the future and what I will do with the remainder of my life. All aspects to be considered. It's not just about a career, hobbies, residence, activities, efforts, et al. It's meant to be a comprehensive study and reflection from an ordinary man. Not a doctor. Not a therapist. Not a friend. Not an encyclopedia full of prior research. Just pure thought, a blogged journal with true honesty.
Join the fun and read a new post each day, or check out my book reviews, TV/Film reviews or favorite vacation spots. And feel free to like, rate, comment or take the poll for each post. Note: All written content is my original creation and copyrighted to me, but the graphics and images were linked from other sites and belong to them. Many thanks to their original creators.