Academic Curveball, the first book in my new series, Braxton Campus Mysteries, is FREE for 5 days from 10/30 thru 11/3. You can buy the Kindle e-read version via Amazon @ http://mybook.to/ACurveball — SHARE everywhere you can to help promote the book.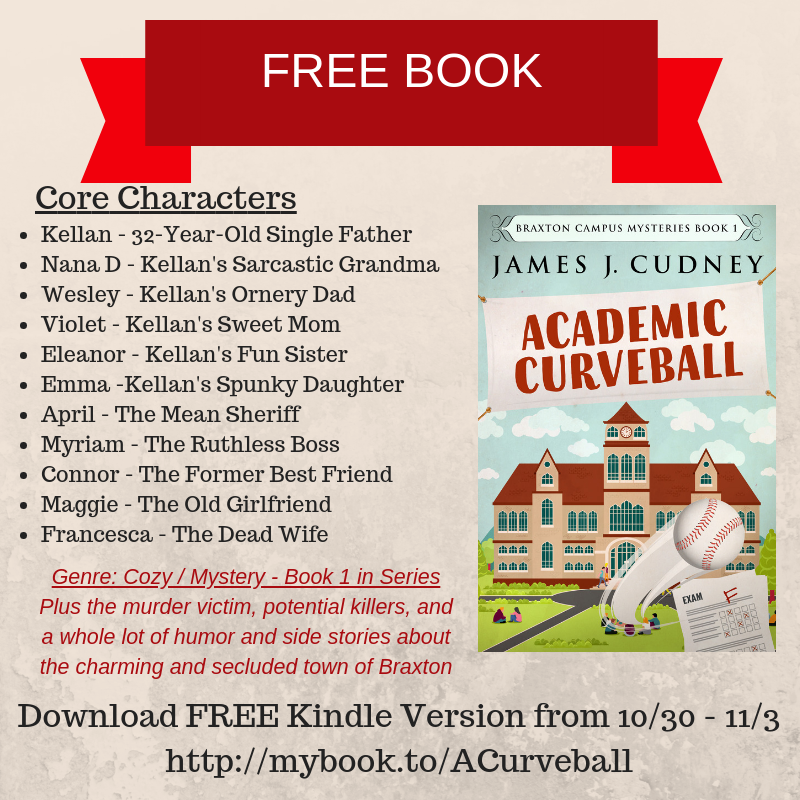 Book 2, Broken Heart Attack, is currently with the publisher for final review and will launch in December 2018. You won't have to wait long to find out what happens in this cozy, secluded Pennsylvania village full of quirky, sarcastic and nosy residents.
Overview / Description:
When Kellan Ayrwick returns home for his father's retirement from Braxton College, he finds a dead body in Diamond Hall's stairwell. Unfortunately, Kellan has a connection to the victim, and so do several members of his family. Could one of them be guilty of murder? Soon after, the college's athletic program receives mysterious donations, a nasty blog denounces his father and someone attempts to change students' grades. Someone is playing games on campus, but none of the facts add up. With the help of his eccentric and trouble-making nana, Kellan tries to stay out of the sheriff's way. And if that wasn't enough already, his own past comes spiraling back to change his life forever.