Day:
November 15, 2018
I'm very excited to share the cover for the second book in the Braxton Campus Mystery series with everyone. The book is called Broken Heart Attack and will be available for purchase on November 25th, 2018. Check out this beautiful cover…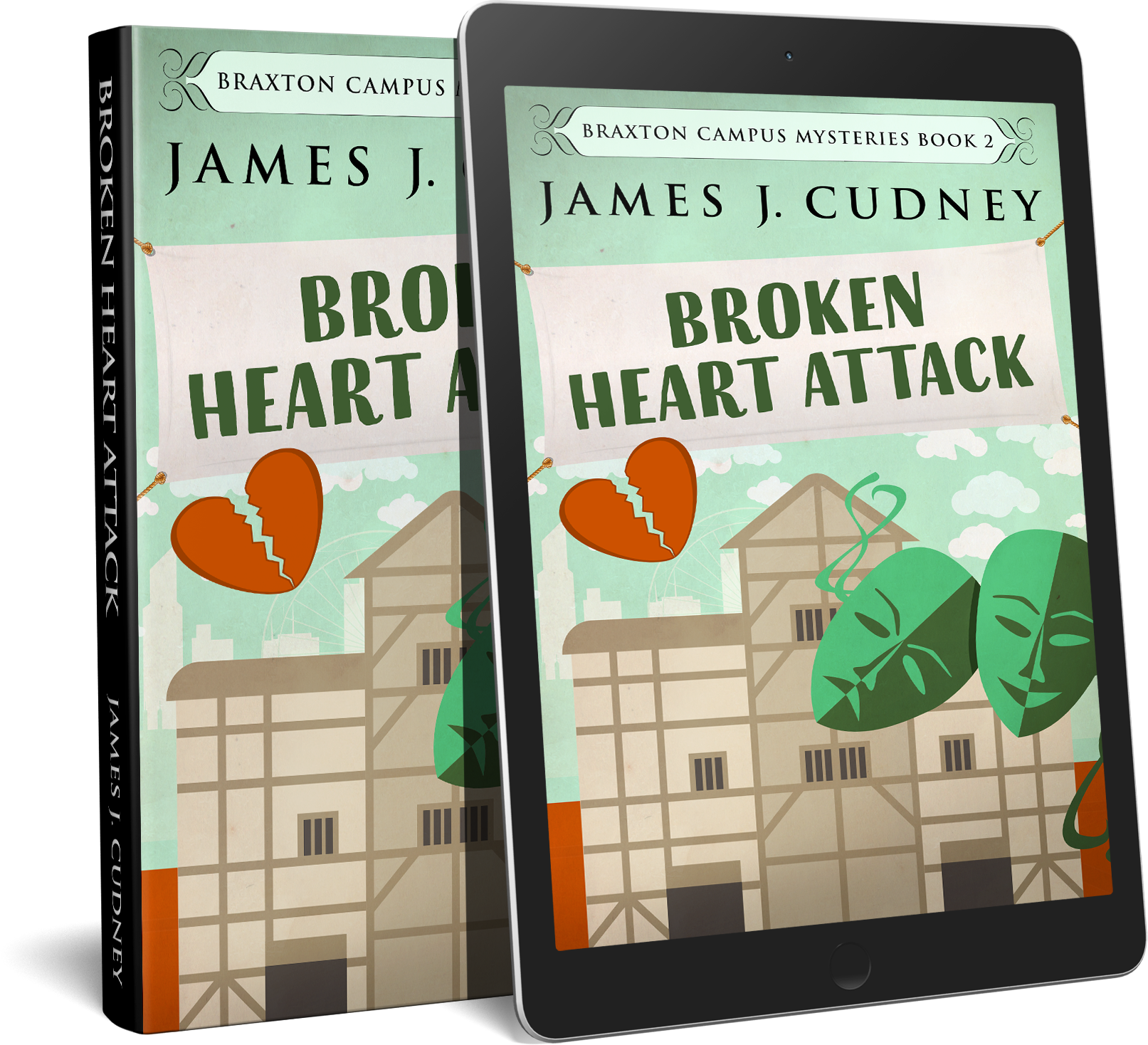 Description of Book
After an extra ticket becomes available to attend the dress rehearsal of Braxton's King Lear production, Kellan tags along with Nana D and her buddies, sisters-in-law Eustacia and Gwendolyn Paddington, to show support for the rest of the Paddington family. When one of them appears to have a heart attack in the middle of the second act, Nana D raises her suspicions and asks Kellan to investigate who killed her friend. Amidst family members suddenly in debt and a secret rendezvous between an unlikely pair, Kellan learns the Paddingtons might not be as clean-cut as everyone thinks. But did one of them commit murder for an inheritance? Kellan's back in his second adventure since returning home to Pennsylvania. With his personal life in upheaval and his new boss, Myriam, making life difficult, will he be able to find a killer or will he get caught up in his own version of stage fright?
***
For the next ten days thru 11/25 (publication date), you can buy the Kindle electronic version for only .99 cents. We're discounting for any pre-sale purchases as a special Thanksgiving offer. It will be automatically sent to your device on 11/25 before it converts to normal price. It will also be available in print format by 11/30 for anyone looking to read the physical book. You can buy through the pre-sale on Amazon here. You can also add the book to your Goodreads TBR via the link below.
If you haven't read the first book, you can purchase the electronic or physical print format of the book through Amazon. While they can be read stand-alone, given the cliffhangers in the first book, Academic Curveball, and the introduction to the world of Braxon Campus, it might be better to read them in order. The third book, Flower Power Trip, is currently in draft form with a target release of the first quarter in early 2019.
***
Stay tuned for upcoming release information for Broken Heart Attack over the next two months. We will have several exciting marketing campaigns including:
Book Blog Tour — Academic Curveball
Book Blog Tour — Broken Heart Attack
Adventures to win prizes
ARC Reading Opportunities
Giveaways
Author Interviews
More!
Quote Posted on
Our second book begins this week with Ghastly Glass. For general background and links to reviews on this readathon, you can find them here. Each week I'll update the list of blogs who will be reading and providing reviews. Feel free to leave comments on the page, too! I read the book early as I have a few other ARCs coming up this month to finish over the next few days. I'm excited to hear from everyone!
Also, I've been out of town and offline for a few days.  I'm trying to find any reviews to link for the readathon for the first book (or this one). I might miss them since I can't catch up on everything… please send your links so I can update the readathon page. Thanks!
***
The voters have spoken… our winning book series to read in November 2018 is the Renaissance Faire cozy mysteries by Joyce and Jim Lavene. Many thanks to everyone who participated in the last month to choose the category for the readathon, the authors and books series to vote on, and the suggestions to make this as fun as it will be. Since there are 8 books in the series, we cannot easily read them all in one month. We probably could, but there are many of us with other ARCs or pre-scheduled reads, so I think we should do 50%… essentially the first 4 books. Below is our schedule and the books:
In order, they are:
Given how busy everyone is, let's just focus on getting them all read and reviewed in the month of November 2018. Read 1, 2, 3, or 4 books — however much time you have available. Our tentative schedule to post each review is:
Wicked Weaves – Due 11/9
Ghastly Glass – Due 11/16
 Deadly Daggers – Due 11/23
Harrowing Hats – Due 11/30
I'll create the new pages and links throughout the next couple of weeks. For now, buy them or order them from your local library. If you have them already – awesome. I can't wait to get started!
***
Based on last month's poll, you voted to combine two of the options into a single approach for our November 2018 Readathon. The winner is: "Cozy Mystery Series." Many thanks to all the voters and promoters for the readathon. I'm very excited to choose a series with 4 or 5 books that we can read all throughout November and post our reviews. Some of the suggestions may have more than 5, but we will only read the first 5. A few have less than 5, so we will just read 3 or 4 depending on what wins. I've also chosen authors I've never read before but have on my TBR.
You can choose your top 3 series to read.  The poll is open today through 10/12 (one full week). On 10/13, I'll announce the book series with the most votes. We'll have three weeks to buy or borrow the books and set the reading and review schedule. Links to the Goodreads description of the fist book are below the poll to help you choose.
Descriptions of Books
Cindy Blackburn – Cue Ball
Betty Hechtman – Yarn Retreat
Nancy Atherton – Aunt Dimity
Ellery Adams – Book Retreat
Julia Buckley – A Writer's Apprentice
Avery Ames – A Cheese Shop
Nancy Martin – Blackbird Sisters
Kate Carlisle – Fixer-Upper
Bailey Cates – Magical Bakery
Alice Kimberly – Haunted Bookshop
Heather Blake – Wishcraft
Jim & Joyce Lavene – Renaissance Faire
Lorna Barrett – Booktown
Jana DeLeon – Miss Fortune
Lea Wait – Mainely Needlepoint
Laura Childs – A Tea Shop
Krista Davis – Domestic Diva
Daryl Wood Gerber – Cookbook Nook
Eva Gates – Lighthouse Library
Betty Webb – Gunn Zoo
Leslie Budewitz – A Spice Shop
Kelly Lane – Olive Grove
Laura Childs – Scrapbooking