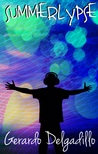 Summerlypse
by
Gerardo Delgadillo
My rating:
5 of 5 stars
Summerlypse is the second book written by Gerardo Delgadillo that I've read in the last year. I knew I'd connect with his writing style and characters based on the previous one, but the over-the-top plot made this one even more endearing and welcome.
The novel is a young adult story about a 17-year-old Texan, Colton, who can't seem to get his crush to notice him. When he pushes himself to catch her attention, she drops a bomb on him about who she really likes. So, Colton backs away. His best friend, Martin, works with Colton's parents to obtain permission for a trip to Mexico to visit Martin's abuelita (grandmother). And that's where the ride of Colton's life begins. He meets a new girl. Her father will kill Colton if he doesn't do the right thing. She's deaf. She's a DJ. She needs Colton's help to win money despite her father being super rich and super difficult. There is a bevy of hilarious and touching moments that bring the hero and the heroine together, all of which are the reasons you never let your 17-year-old go away on his own.
Delgadillo, a parent himself, likes to push the envelope, and he readily admits it. But like most people realize, this is fiction, and it's supposed to make us laugh and love the characters even more. Great success from my point of view. I loved watching the relationship develop between Colton and Alex, even when she rebuffs him or her father tries to kill him. Colton is smart, and he knows when to retreat, but does he always listen? No! Did he get back on a plane to Texas? No! Instead, he rushes after her… so you gotta give the boy epic points for trying. At 17, I'd never been on a plane, so kudos to him for showing us how it could and should be done at times.
I'm not a frequent YA reader, but I have read at least 25 to 30 books of similar variety. Each has its own way of capturing the character through dialog and action. Colton makes mistakes, and he knows it. He's adorable, but not perfect. He takes the ribbing from his 10-year-old sister showing up he can be a man and be vulnerable at the same time. He talks really fast around girls, and often mis-translates Spanish to say or think the wrong thing. Gotta love him for that. What set this apart for me is that multi-cultural approach, the diversity among the characters, the non-traditional plot of how the boy or girl goes after the boy or girl, and the danger they actually face.
Delgadillo tugged at my heartstrings at several points in the story. I laughed out loud a few times, too. In the end, I really liked Colton and would want to be friends with him — if I were a few years younger and he was a few years older. The DJ scenes, the transportation scenes, and the tender moments showed the author's passion for writing and ability to research and build a setting that readers will connect with.
I'm keen to read another of Delgadillo's works, as he always presents formidable yet touching characters whom you want to see succeed — only after a few complex obstacles have been tossed in their path, of course. And this author knows how to do that with a fine line of reality and super-charged "oh no he didn't" moments!
View all my reviews