Broken Heart Attack, the second book in the Braxton Campus Mysteries, will be available for only .99 as a Kindle purchase from 3/28 thru 4/1. You can purchase via Amazon here. The discount begins at 8 AM PST.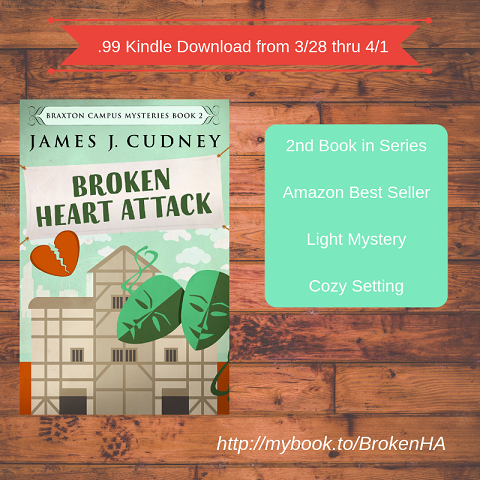 Overview:
When an extra ticket becomes available to attend the dress rehearsal of Braxton's King Lear production, Kellan tags along with Nana D and her buddies, sisters-in-law Eustacia and Gwendolyn Paddington, to show support for the rest of the Paddington family. When one of them appears to have a heart attack in the middle of the second act, Nana D raises her suspicions and asks Kellan to investigate who killed her friend. Amidst family members suddenly in debt and a secret rendezvous between an unlikely pair, Kellan learns the Paddingtons might not be as clean-cut as everyone thinks. But did one of them commit murder for an inheritance? Kellan is back in his second adventure since returning home to Pennsylvania. With his personal life in upheaval and his new boss, Myriam, making life difficult, will he be able to find a killer or will he get caught up in his own version of stage fright?

Key Info:
About Me
For those new to me or my reviews… here's the scoop: I'm Jay, an author who lives in NYC. My stand-alone novels, Watching Glass Shatter and Father Figure, can be purchased on Amazon as electronic copies or physical copies. My new book series, Braxton Campus Mysteries, will fit those who love cozy mysteries and crime investigations but with a twist. There are three books: Academic Curveball, Broken Heart Attack, and Flower Power Trip. I read, write, and blog A LOT on this site where you can also find all my social media profiles to get the details on the who/what/when/where and my pictures. Leave a comment and let me know what you think. Thanks for stopping by. Note: All written content is my original creation and copyrighted to me, but the graphics and images were linked from other sites and belong to them. Many thanks to their original creators. Follow my blog with Bloglovin.