Day:
April 5, 2019
It's the first day of the blog tour for Flower Power Trip, the 3rd book in the Braxton Campus Mysteries series. To get the book, you can buy a Kindle or physical copy via Amazon. To see the main page on the blog tour, you can check out Great Escapes Virtual Tours. The list of blogs is below in this post, please visit them all and re-blog, share, and tweet for others. Find a new blogger to follow, too!

Overview: Braxton College is throwing the Heroes & Villains Costume Extravaganza to raise money for renovations to the antiquated Memorial Library. While attending, Kellan stumbles upon a close family friend standing over a dead body that's dressed as Dr. Evil. Did one of Maggie's sisters kill an annoying guest at the Roarke and Daughters Inn or does the victim have a more intimate connection to someone else on campus? As Kellan helps the school's president, Ursula, bury a scandalous secret from her past and unearth the identity of her stalker, he unexpectedly encounters a missing member of his own family who's reappeared after a lengthy absence. When all of the peculiar events around town trace back to the Stoddards, a new family who recently moved to Wharton County, the explosive discovery only offers more confusion. Between the special flower exhibit that's made an unplanned stop on campus and strange postcards arriving each week from all around the world, Kellan can't decide which mystery in his life should take priority. Unfortunately, the biggest one of all has yet to arrive at his doorstep. When it does, Kellan won't know what hit him.

All Books in the Series
Academic Curveball (#1) – 10/15/18
Broken Heart Attack (#2) – 11/25/18
Flower Power Trip (#3) – 3/30/19
Mistaken Identity Crisis (#4) – 6/30/19
***
We've arranged a phenomenal blog tour with ~20 amazing bloggers who will share reviews, giveaways, interviews, and other special content from April 5th through April 15th. Come join the fun and leave a comment on everyone's blog. For more information, check out the Great Escape Virtual Blog Tour pagewhere you'll find all the details.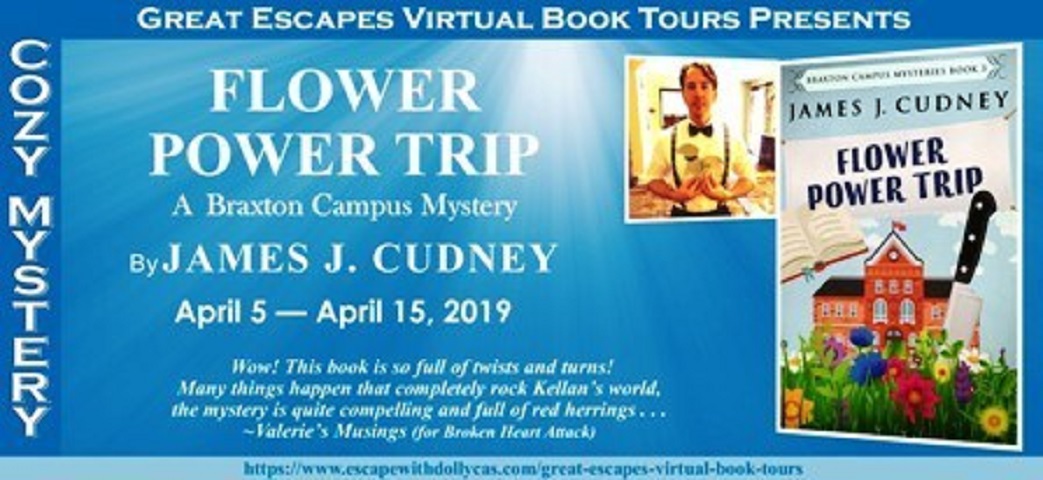 TOUR PARTICIPANTS
April 5 – Mallory Heart's Cozies – REVIEW
April 5 – A Wytch's Book Review Blog – CHARACTER INTERVIEW
April 6 – Carla Loves To Read – REVIEW
April 6 – Escape With Dollycas Into A Good Book – SPOTLIGHT
April 7 – Cozy Up With Kathy – CHARACTER GUEST POST
April 8 – Babs Book Bistro – SPOTLIGHT
April 8 – Literary Gold – SPOTLIGHT
April 9 – I'm Into Books – SPOTLIGHT
April 9 – Books Direct – GUEST POST
April 10 – Jane Reads – REVIEW
April 10 – Dee-Scoveries – SPOTLIGHT
April 11 – Ruff Drafts – SPOTLIGHT
April 11 – Readeropolis – SPOTLIGHT
April 12 – View from the Birdhouse – SPOTLIGHT
April 12 – Celticlady's Reviews – SPOTLIGHT
April 13 – MJB Reviewers – SPOTLIGHT
April 13 – Brooke Blogs – SPOTLIGHT
April 14 – A Blue Million Books – AUTHOR INTERVIEW
April 15 – Valerie's Musings – REVIEW
April 15 – Laura's Interests – SPOTLIGHT
Have you signed up to be a Tour Host?
Click Here Find Details and Sign Up Today!
Check out the new map of Braxton that readers will find when they purchase Flower Power Trip
About Me
For those new to me or my reviews… here's the scoop: I'm Jay, an author who lives in NYC. My stand-alone novels, Watching Glass Shatter and Father Figure, can be purchased on Amazon as electronic copies or physical copies. My new book series, Braxton Campus Mysteries, will fit those who love cozy mysteries and crime investigations but with a twist. There are three books: Academic Curveball, Broken Heart Attack, and Flower Power Trip. I read, write, and blog A LOT on this site where you can also find all my social media profiles to get the details on the who/what/when/where and my pictures. Leave a comment and let me know what you think. Thanks for stopping by. Note: All written content is my original creation and copyrighted to me, but the graphics and images were linked from other sites and belong to them. Many thanks to their original creators. Follow my blog with Bloglovin.
I'm super excited to share today's cover reveal of Mistaken Identity Crisis, the fourth book in the Braxton Campus Mysteries. It is currently available for pre-sale and will be available for full download on June 30th, 2019. Physical copies will be available in July 2019. A blog tour is planned for July 2019 with Great Escapes Virtual Book Blog Tours.
The first big step was revealing the cover… and I'm lucky enough to have the support of Shalini @ Digital Reads Blog Tours and over 20 bloggers doing today's big reveal of Mistaken Identity Crisis. See the full list below and please visit their sites. Tell us what you think of the series, characters, description, and cover design. We're all excited to hear your opinions and share the posts with our followers and friends. Many thanks for your support and feedback!
Overview of 'Mistaken Identity Crisis'
A clever thief with a sinister calling card has invaded Braxton campus. A string of jewelry thefts continues to puzzle the sheriff given they're remarkably similar to an unsolved eight-year-old case from shortly before Gabriel vanished one stormy night. When a missing ruby is discovered near an electrified dead body during the campus cable car redesign project, Kellan must investigate the real killer in order to protect his brother. Amidst sorority hazing practices and the victim's connections to several prominent Wharton County citizens, a malicious motive becomes more obvious and trickier to prove.
As if the latest murder isn't enough to keep him busy, Kellan partners with April to end the Castigliano and Vargas crime family feud. What really happened to Francesca while all those postcards showed up in Braxton? The mafia world is more calculating than Kellan realized, and if he wants to move forward, he'll have to make a few ruthless sacrifices.
Election Day is over, and the new mayor takes office. Nana D celebrates her 75th birthday with an adventure. A double wedding occurs at Crilly Lake on Independence Day. And Kellan receives a few more surprises as the summer heat begins to settle in Wharton County.
List Of Participants To Check Out!
Shalini www.bookreviewsbyshalini.com
Didi www.didioviatt.wordpress.com
Mackie www.phdiva.blog
Lili www.lilisblissfulpages.wordpress.com
Amy www.zanybibliophile.wordpress.com
Amanda www.writewhereiread.wordpress.com
Yesha www.booksteacupnreviews.wordpress.com
Nina www.thecozypages.wordpress.com
Jessica www.jessicarachow.wordpress.com
Nicole www.thebookwormdrinketh.com
Kurian www.obsessed2015.com
Susan Dyer www.susanlovesbooks.wordpress.com
Misty www.mistysbookspace.wordpress.com
Carla www.carlalovestoread.wordpress.com
Mani www.manisbookcornerblog.wordpress.com
Patty www.moohnshinescorner.blog
Mary www.sophrilreads.com
Beth www.hike2forty.blogspot.com
Shortgirl www.shortgirlwrites.wordpress.com
Odylicious Val www.bookblog200.wordpress.com
Dora www.swiftcoffee.blog
Janet www.scr4pl80.wordpress.com
Becky www.omgbecky.blog