Day:
May 22, 2019
The debut book in the Braxton Campus Mysteries, Academic Curveball, is available as a .99 Kindle download from 5/22 thru 5/26. This book won a Best Fiction award and was the #1 downloaded Kindle book in the highest possible category back in February during the initial promotion. There are now 4 books available in the series, so why not start reading them by getting this one for less than a dollar! Buy for .99 via Amazon.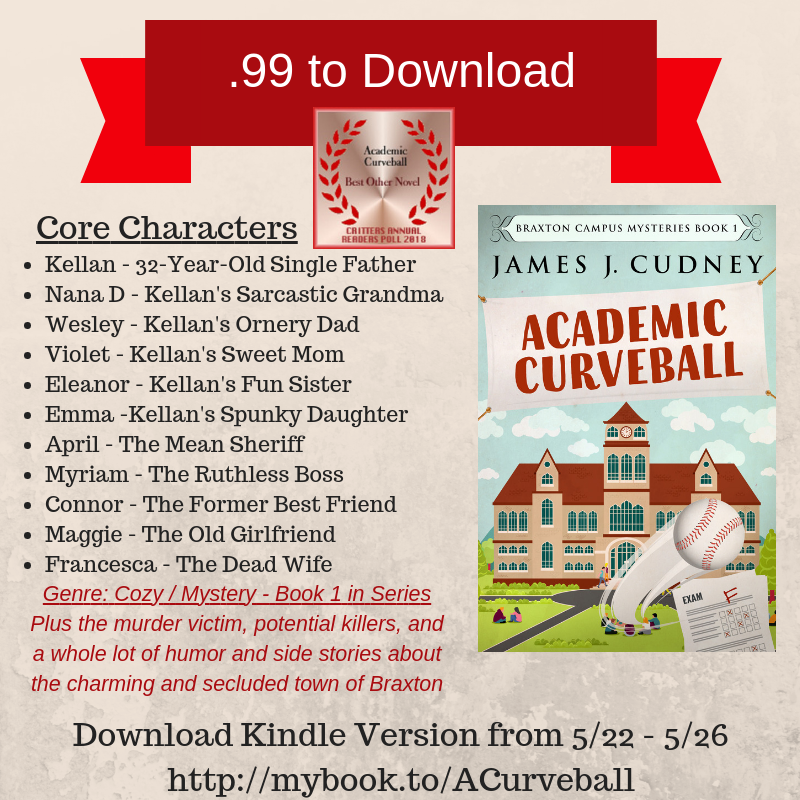 ***
Overview / Description: When Kellan Ayrwick returns home for his father's retirement from Braxton College, he finds a dead body in Diamond Hall's stairwell. Unfortunately, Kellan has a connection to the victim, and so do several members of his family. Could one of them be guilty of murder? Soon after, the college's athletic program receives mysterious donations, a nasty blog denounces his father and someone attempts to change students' grades. Someone is playing games on campus, but none of the facts add up. With the help of his eccentric and trouble-making nana, Kellan tries to stay out of the sheriff's way. And if that wasn't enough already, his own past comes spiraling back to change his life forever.
Braxton Campus Mysteries Overview
A new mystery series debuting in October 2018 focusing on amateur sleuth, Kellan Ayrwick, a 32-year-old single father who solves crimes in his Pennsylvania hometown while attending to his day job as a professor at Braxton University.
Check out the Blog Tour