Not only are books three and four in the Braxton Campus Mysteries discounted to .99 this week, but the 5th book, Haunted House Ghost, is also available as a Kindle download for only .99 from 11/16 thru 11/20. To take advantage of this discount, visit Amazon via this link.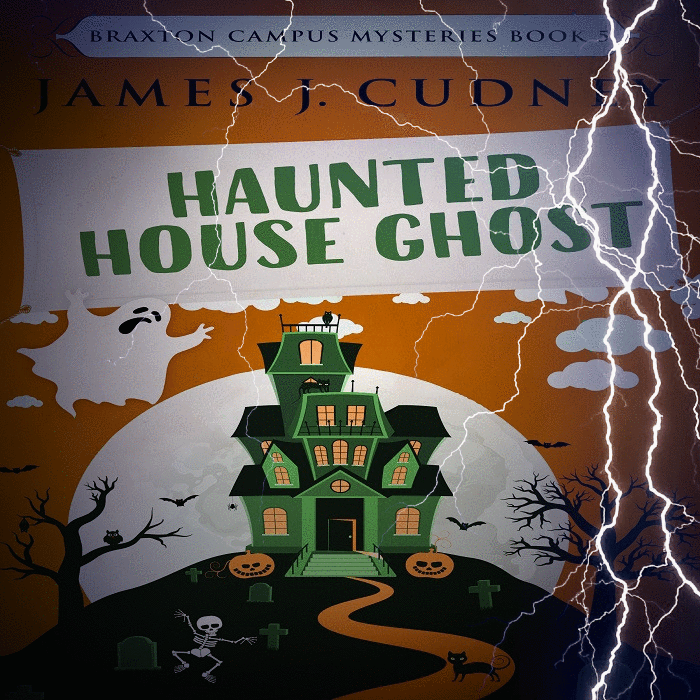 Overview of Haunted House Ghost
It's Halloween, and excitement is brewing in Braxton to carve jack-o'-lanterns, go on haunted hayrides, and race through the spooky corn maze at the Fall Festival.
Despite the former occupant's warnings, Kellan renovates and moves into a mysterious old house. When a ruthless ghost promises retribution, our fearless professor turns to the eccentric town historian and an eerie psychic to communicate with the apparition. Meanwhile, construction workers discover a fifty-year-old skeleton after breaking ground on the new Memorial Library wing.
While Kellan and April dance around the chemistry sparking between them, a suspicious accident occurs at the Fall Festival. Soon, Kellan discovers the true history and dastardly connections of the Grey family. But can he capture the elusive killer – and placate the revenge-seeking ghost.
Read a special excerpt here.

In the book, we quickly learn about a fire that occurred on campus during a 1968 Vietnam War protest. I imagine it looked a little bit like the one below…
Below are the key details to find the blog tour… it was so much fun. There were character posts, guest posts, interviews, and giveaways!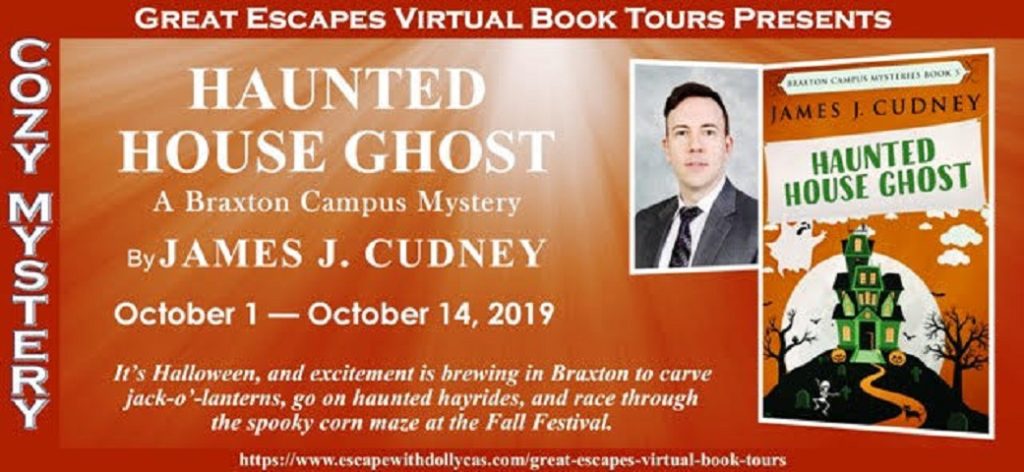 Early Reviews
Dear Readers: I deeply appreciate the author for having sent this book on over. The character development is superb. As these books progress, the characters come alive. Kellan has a great sense of humor. If this book were made into a Halloween movie or TV show, I would enjoy seeing Kellan's responses to various things. In addition to his great sense of humor, Kellen has a knack for finding crime scenes and the putting pieces together and solving the mystery.
Interestingly, this one is a part of a whole series of cozy mysteries. Each can be read as a stand-alone and are connected at the same time. There are a lot of twists and turns along with a good many story lines within the book. Amazingly, the author managed to see all the adventures through, and tied everything up in a neat and tidy bow.
…. And these leave the reader wanting more. Yes…. There is a cliff hanger and now, I will wait patiently for the next book. I thank the author kindly for having written this book. Everyone enjoys a good mystery. This one satisfied that urge to read a good mystery. It is greatly appreciated that one can read this book into the wee hours of the morning and still be able to sleep, and not fight off horrible scary nightmares!
"I went to the Land of Braxton
Met up with Kellan and Ulan
A cousin from Africa he was
Wanted to move to New house
But a ghost haunted that place
A skeleton was found in old library space
A confession, an attack on the side
A new murder too on the hayride
Who was the victim no one knew
The suspects were old but still new
Father and son were present
Ex and new, old and psychic were sent
A priest and his family were shaken
Kellan and April, their time was taken
A breakthrough occurred in Kellan's mind
He showed James J Cudney is one of a kind."
The magician has done it again. A brilliant whodunit!! James J Cudney brought out a pack of cards from his top hat and constructed a house so deeply layered that the clues were hidden in the sleight of his hand.
Brilliant in his writing, it all started with a nightmare, the words had a haunting smoothness to it. If you listened carefully, you would hear the grim reaper with the scythe.
I have never seen autumn and Halloween in real life, the author made them come alive for me with the power of his writing. Red herrings were placed strategically amongst the orange pumpkins and the Halloween props. They blended in so smoothly that guessing the killer was beyond me.
The old characters returned, romance between Sheriff April and Kellan had its sexy moments before a skeleton and murder rudely interrupted them. The plotline had many twists as this author's books often do, and the finale was a perfect amalgamation of real and unreal.
I repeat – a fun whodunit with shades of autumn, Halloween, and ghostly sightings.
This series is so much fun! And when I saw this title and this cover, I just knew it was going to be my favorite. I'm a huge Halloween fan and would seriously just like this holiday year round! Anyway, now that I'm going off course, let me get to my boy Kellan!
Kellan's life is full of so much drama and I love it! There's a ton of mystery to these stories, but what I like just as much is the family dynamic with the side characters. Kellan's such an awesome dad, and I've always wanted that bond he has with Nana D. Seriously, I want my own Nana D! Also, there is some awesome chemistry between April and Kellan in this one! They need to catch a break!
There was talk about Halloween costumes, food, and an entertaining mystery that needed to be solved! Can I also mention that this book had me at skeleton being found in the library! I literally finished this one in less than 24 hours because I wanted to know what was going on! Andddddddd of course there is a cliffhanger, so that leaves me yearning for the next book! Side note: can there just be a Netflix series on Kellan's mysteries? That would be amazing!
I'm a huge fan of Cudney's and of course love this series! Protagonist Kellen is moving into his new home that is rumored to be haunted and the first scene will scare you enough to compel you to finish. It's the same quirky family, featuring his sweet young daughter, feisty Nana D as well as the rest of his family and relatively new love interest, April. There are several murders and lots of characters, layers and layers of plot and history surrounding the house. Even though I recommend reading the entire series, each book can stand alone as Cudney gives us plenty of background on each. This one is a little different as it brings in some spooky and macabre elements that gives it a little bit of a gothic feel. But there's also Cudney's charming humor that makes you laugh out loud and now has me wondering which Halloween socks to wear! This series just keeps getting better and better so now I'm awaiting #6!
This season we are back with Kellan as he's once again pulled in a million different directions what with parenting not only Emma but his cousin as well, along with teaching, other family obligations with Nana D, Violet, Eleanor, etc., and being co-chair of a Halloween/Fall Festival being held at Danby Landing, all while trying to complete fixing up his newold house so they can move in. But all is not smooth sailing for the Ayrwick family as strange things have been happening during the renovation process. Conveniently, Gabriel has been away so they've been able to stay in the cottage. And the possibility that these things are being caused by the supernatural causes Kellan (though he doesn't believe) to agree that Eleanor can contact her psychic friend Madam Zenya to see if she can help.
The renovations for the Braxton Campus library also get underway in this book but those are put on hold when during the demolition a body is discovered in the foundation. So now Kellan feels compelled to investigate that situation as well.
I quite enjoyed reading this story, and it's always good to catch up my friends in Braxton. I also often emulate Nana D, as I also bake pie the first weekend of October. And I think this story has just enough suspense and mystery and humour and just Fall fun to make it the perfect read to curl up with on a cool Autumn night, along with a blanket and a hot chocolate.
***
Check out all my open discounts and giveaways via this link.
About Me
For those new to me or my reviews… here's the scoop: I'm Jay, an author who lives in NYC. My stand-alone novels, Watching Glass Shatter and Father Figure, can be purchased on Amazon as electronic copies or physical copies. My new book series, Braxton Campus Mysteries, will fit those who love cozy mysteries and crime investigations but with a twist. There are five books: Academic Curveball, Broken Heart Attack, Flower Power Trip, Mistaken Identity Crisis, and Haunted House Ghost. I read, write, and blog A LOT on this site where you can also find all my social media profiles to get the details on the who/what/when/where and my pictures. Leave a comment and let me know what you think. Thanks for stopping by. Note: All written content is my original creation and copyrighted to me, but the graphics and images were linked from other sites and belong to them. Many thanks to their original creators. Follow my blog with Bloglovin.