book
Father Figure is a .99 cent download for the next 5 days from 5/16 thru 5/20. It officially begins at 11am EST today – help yourselves! Thank you so much for your support in sharing, downloading, reading, and reviewing. I appreciate it!   Download @ http://mybook.to/FatherFigure
Description
Between the fast-paced New York City, a rural Mississippi town and a charming Pennsylvania college campus filled with secrets, two young girls learn the consequences of growing up too quickly. Amalia Graeme, abused by her mother for most of her life, longs to escape her desolate hometown and fall in love. Contemplating her loss of innocence and conflicting feelings between her boyfriend and the dangerous attraction she's developed for an older man, Amalia faces life-altering tragedies. Brianna Porter, a sassy, angst-ridden teenager raised in New York City, yearns to find her life's true purpose, conquer her fear of abandonment, and interpret an intimidating desire for her best friend, Shanelle. Desperate to find the father whom her mother refuses to reveal, Brianna accidentally finds out a shocking truth about her missing parent. Set in alternating chapters two decades apart, the parallels between their lives and the unavoidable collision that is bound to happen is revealed. FATHER FIGURE is an emotional story filled with mystery, romance, and suspense.
Father Figure was officially launched for sale on Amazon on April 2, 2018 as both an e-book and a physical book. Reviews have been extremely positive between Goodreads and Amazon since the 5-day free download and 5-day book blitz.
Book Blitz: For 5 days, (4/30 thru 5/4) we posted promotions, hints, and feedback
Blog Tour: For 5 days (6/4 thru 6/8) we posted reviews, interviews and a giveaway
Gratitude
Thank you to everyone who has read or reviewed the book in the last few weeks. I am so happy it is going well. I can't wait to share everything as they post.
I am also very appreciative for everyone who has re-blogged or shared these reviews and posts. You help make this even more successful.
If you've published any posts that I've missed or didn't include here, please let me know. I will keep updating my author website with all the links through end of June when I'm done with the initial marketing phase.
It's the first day of the blog tour for Flower Power Trip, the 3rd book in the Braxton Campus Mysteries series. To get the book, you can buy a Kindle or physical copy via Amazon. To see the main page on the blog tour, you can check out Great Escapes Virtual Tours. The list of blogs is below in this post, please visit them all and re-blog, share, and tweet for others. Find a new blogger to follow, too!

Overview: Braxton College is throwing the Heroes & Villains Costume Extravaganza to raise money for renovations to the antiquated Memorial Library. While attending, Kellan stumbles upon a close family friend standing over a dead body that's dressed as Dr. Evil. Did one of Maggie's sisters kill an annoying guest at the Roarke and Daughters Inn or does the victim have a more intimate connection to someone else on campus? As Kellan helps the school's president, Ursula, bury a scandalous secret from her past and unearth the identity of her stalker, he unexpectedly encounters a missing member of his own family who's reappeared after a lengthy absence. When all of the peculiar events around town trace back to the Stoddards, a new family who recently moved to Wharton County, the explosive discovery only offers more confusion. Between the special flower exhibit that's made an unplanned stop on campus and strange postcards arriving each week from all around the world, Kellan can't decide which mystery in his life should take priority. Unfortunately, the biggest one of all has yet to arrive at his doorstep. When it does, Kellan won't know what hit him.

All Books in the Series
Academic Curveball (#1) – 10/15/18
Broken Heart Attack (#2) – 11/25/18
Flower Power Trip (#3) – 3/30/19
Mistaken Identity Crisis (#4) – 6/30/19
***
We've arranged a phenomenal blog tour with ~20 amazing bloggers who will share reviews, giveaways, interviews, and other special content from April 5th through April 15th. Come join the fun and leave a comment on everyone's blog. For more information, check out the Great Escape Virtual Blog Tour pagewhere you'll find all the details.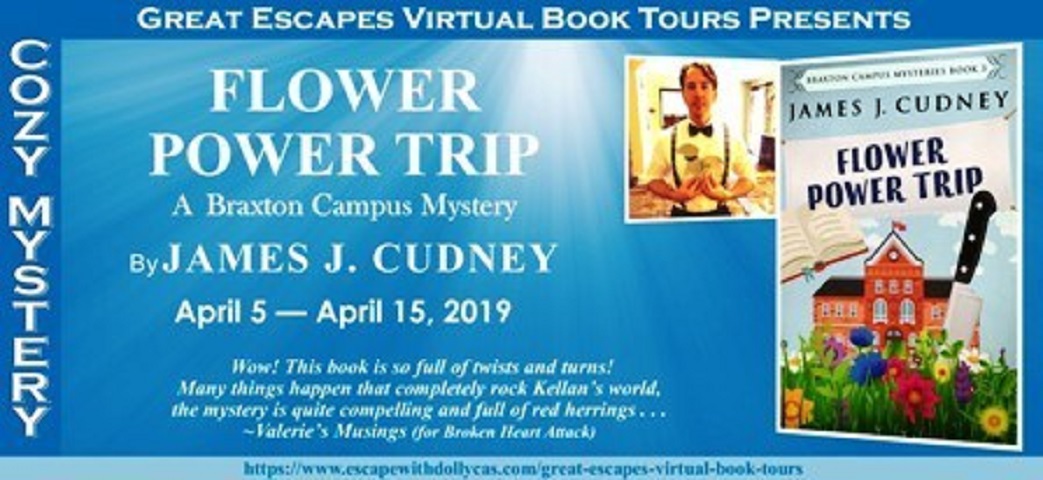 TOUR PARTICIPANTS
April 5 – Mallory Heart's Cozies – REVIEW
April 5 – A Wytch's Book Review Blog – CHARACTER INTERVIEW
April 6 – Carla Loves To Read – REVIEW
April 6 – Escape With Dollycas Into A Good Book – SPOTLIGHT
April 7 – Cozy Up With Kathy – CHARACTER GUEST POST
April 8 – Babs Book Bistro – SPOTLIGHT
April 8 – Literary Gold – SPOTLIGHT
April 9 – I'm Into Books – SPOTLIGHT
April 9 – Books Direct – GUEST POST
April 10 – Jane Reads – REVIEW
April 10 – Dee-Scoveries – SPOTLIGHT
April 11 – Ruff Drafts – SPOTLIGHT
April 11 – Readeropolis – SPOTLIGHT
April 12 – View from the Birdhouse – SPOTLIGHT
April 12 – Celticlady's Reviews – SPOTLIGHT
April 13 – MJB Reviewers – SPOTLIGHT
April 13 – Brooke Blogs – SPOTLIGHT
April 14 – A Blue Million Books – AUTHOR INTERVIEW
April 15 – Valerie's Musings – REVIEW
April 15 – Laura's Interests – SPOTLIGHT
Have you signed up to be a Tour Host?
Click Here Find Details and Sign Up Today!
Check out the new map of Braxton that readers will find when they purchase Flower Power Trip
About Me
For those new to me or my reviews… here's the scoop: I'm Jay, an author who lives in NYC. My stand-alone novels, Watching Glass Shatter and Father Figure, can be purchased on Amazon as electronic copies or physical copies. My new book series, Braxton Campus Mysteries, will fit those who love cozy mysteries and crime investigations but with a twist. There are three books: Academic Curveball, Broken Heart Attack, and Flower Power Trip. I read, write, and blog A LOT on this site where you can also find all my social media profiles to get the details on the who/what/when/where and my pictures. Leave a comment and let me know what you think. Thanks for stopping by. Note: All written content is my original creation and copyrighted to me, but the graphics and images were linked from other sites and belong to them. Many thanks to their original creators. Follow my blog with Bloglovin.
Friends,
I have a new book coming out in June 2019 for the Braxton Campus Mysteries. I've partnered with Digital Reads Blog Tours for the cover reveal this Friday 4/5. You can sign up to post with us and share the new cover before anyone else sees it. How exciting! Why don't you join in? See the post link below and help spread the word. Thank you!
Jay
***
https://digitalreadsblogtours.wordpress.com/2019/04/01/cover-reveal-bloggers-needed-on-5th-april-2019-for-james-j-cudneys-book-4-of-braxton-campus-series-jamescudney4-creativiapub-coverreveal/
The Cracked Altar
by
Timothy J. R. Rains
My rating:
5 of 5 stars
The Cracked Altar, a fantasy novel by Timothy J. R. Rains, first interested me because of its intriguing title. Would it have a religious theme? What dastardly action would happen, as when something says
cracked
, it usually has a clever twist. As soon as I dove in, Hinkle's near-capture captivated me. I'm not typically a reader in this genre, but the more I sample some works, I find myself becoming a fan.
Hinkle's family tree is complex. We immediately learn that her mother is gone. She's been living with a grandmother in a world where her family has suffered. There's an uncle who's a mystery and aunt who's either a pious nun or a nefarious witch. Which will it be? Hinkle is rescued by her own special brand of knight, and her grandmother engineers a solution that will benefit them all in the future. It's a powerful scene and sets a fantastic tone for the book. We follow Hinkle's path with her new protector only to learn nothing we've thought true is indeed accurate. In this world, what's gray is more important than what's black and white.
Rains builds a fascinating and well-developed world where the rich are rich, and the poor are poor. Part-fairy tale and part mystical quest, the novel will engage your visual senses as each scene and action are vividly described. The battle scenes were strong but not over-the-top. The secrets were revealed at timely moments. And the clues were in abundance. The story is gripping, and I'm hopeful there will be a sequel. Kudos to the author for gaining a new fan in the fantasy genre.
View all my reviews

Chaos
by
Patricia Cornwell
My rating:
4 of 5 stars
Chaos is the 24th book in the 'Kay Scarpetta' thriller and suspense series focusing on a medical examiner's investigations. It is currently the last book Patricia Cornwell has written in this series as of 2016 as well as serves as the third issue in an arc about serial killer Carrie Grethen.
The novel is a slower read than usual. We spend a lot of time in Kay's head worrying about things that we don't know a lot about yet. For the most part, the book takes place in just a few days. Several odd deaths occur, and little by little, Kay, Marino, Benton, and Lucy connect them together with the help of various staff. It seems like Carrie Grethen has found another accomplice, and she's sought revenge on Kay. Unfortunately, someone close to Kay pays the price in this installment. We also end the books with an incredibly concerning secret reveal about a new character who was introduced a couple of books ago. What drama!
As a three-book arc, it was definitely interesting to see the progression of the serial killer's mind. I almost wish we had chapters from Carrie's perspective, so that we fully appreciated her psychotic need to get revenge. That's my biggest concern in this series right now… if an author wants to build up a huge nut as the crazy killer, we need to know why not just through other people's views, but through the killer's mind, too. We get that only if they provide messages in writing, make phone calls, or interact in scenes with dialog. That hasn't much happened in this arc, so I struggled to really understand 'why' it was so important to hurt Kay.
As a standalone book, other than being a little too slow of a read, it was fascinating to learn all about the technology and weapons being used. It's probably one or two levels above my knowledge base and capability of understanding the detail, but not so much I felt removed. It clicked, but I found myself skimming on occasion when we got into paragraphs about exactly how it came to be in the hands of the serial killer. The best aspects were seeing Kay's connections with Marino and her staff. She shines with them. Not with Benton. He's a bit too boring for her. And Lucy has been too far removed for a boatload of books, so I've kinda lost any interest in her. The new girlfriend and son angle is interesting, but I wish we'd met them sooner.
That said, it's a fine ending for the arc. I'm left wondering where the books go next… she's due for one this year, but I can't find anything about it. I'll get it when it comes out… this installment was a 3.5 for me.
View all my reviews