gerardo delgadillo
Fractalistic
by
Gerardo Delgadillo
My rating:
5 of 5 stars
The title and the cover of this book are the initial reasons someone would feel compelled to pick it up and learn more. I say that because it's eye-catching and pushes a person to wonder more deeply what it could be about. Would there be the potential for science-fiction or fantastical elements? I had little knowledge of the subject matter of fractals, but I was familiar with the author's work, as I've read (and very much enjoyed) two of his other books. I assumed the tale would have something to do with a 'broken' young adult and that it would focus on Mexican heritage (based on cover and past styles — the author excels in these settings)! But what I read was so much more… and I'm excited to share my thoughts on it today.
Winter, ~17ish American girl, moves to Mexico with her parents, searching for a cure for her mother's illness. Unfortunately, it doesn't work, and her mother passes away. Winter and her father struggle to overcome the pain and loss. The book starts after the death, so we learn much of this in back story. The struggle is clear and obvious through the lack of words and emotion, brittle arguments, and abrasive moments between the two characters — all done in a beautiful and heartfelt way. Winter then meets some new friends at school, something she was reluctant to allow because the last time she trusted her friends, they all abandoned her when her mother had gotten sick. She's been through a lot, but she is strong and pushes through the swirl around her. Winter is a fine balance of a young girl in need of love and guidance and a soon-to-be adult who is mature beyond her years.
Delgadillo lets us stir in confusion for a little while, trying to understand the mysterious fractals that her father is working on. All we know is that they are a way to communicate with his deceased wife, Winter's mom. They both want to see her again, whether it's real or spiritual, but we can clearly tell it's affecting them differently. Her father is angry and forceful to get Winter on board with trying harder to connect with her mom. We think he's being too aggressive, but there are reasons beyond what we know at the time. This is where we feel the fantastical elements, and it's a startling and beautiful moment of bliss and pain — what if it actually works?
By midway, Winter's developed friends, even a boyfriend of sorts. He has his own issues. It's with her new best girl friend that Winter finds an intriguing connection, as her mother is also interested in the research Winter's father is conducting. We see the relationships grow among each of the people in Winter's life, all the while knowing something else is going on beyond what we've been told. It's not easy to figure out, and when it hits you about 75% through the book, you'll stop and need to take a breath. Our beloved characters are far worse off than we realized, but we feel even more enamored with them, hoping they can make the fractals work.
Delgadillo tells a poignant story. With several parts using Spanish (and enough English translations in the text to make the points clear), we have a different layer to the story. It's not just a typical family we might know; it's a family with different cultural beliefs, heritages, stories, and interpretations of life and death. I loved seeing these aspects in the book, as I felt it made the story even stronger. Winter is not a typical young adult, but in many ways, she is exactly the type of kid we've all seen somewhere along the path. Take away the science-fiction and 'death' turbulence in her life, she is going through all the normal things teenagers do… relocation, making new friends, dating a boy/girl for the first time, dealing with parental issues, etc.
Kudos to Delgadillo for a multi-dimensional story with tons of emotional peaks that will make you quite glad you took a chance on this one!
View all my reviews
About Me
For those new to me or my reviews… here's the scoop: I'm Jay, an author who lives in NYC. My stand-alone novels, Watching Glass Shatter and Father Figure, can be purchased on Amazon as electronic copies or physical copies. My new book series, Braxton Campus Mysteries, will fit those who love cozy mysteries and crime investigations but with a twist. There are four books: Academic Curveball, Broken Heart Attack, Flower Power Trip, and Mistaken Identity Crisis. I read, write, and blog A LOT on this site where you can also find all my social media profiles to get the details on the who/what/when/where and my pictures. Leave a comment and let me know what you think. Thanks for stopping by. Note: All written content is my original creation and copyrighted to me, but the graphics and images were linked from other sites and belong to them. Many thanks to their original creators. Follow my blog with Bloglovin.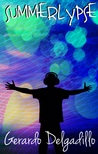 Summerlypse
by
Gerardo Delgadillo
My rating:
5 of 5 stars
Summerlypse is the second book written by Gerardo Delgadillo that I've read in the last year. I knew I'd connect with his writing style and characters based on the previous one, but the over-the-top plot made this one even more endearing and welcome.
The novel is a young adult story about a 17-year-old Texan, Colton, who can't seem to get his crush to notice him. When he pushes himself to catch her attention, she drops a bomb on him about who she really likes. So, Colton backs away. His best friend, Martin, works with Colton's parents to obtain permission for a trip to Mexico to visit Martin's abuelita (grandmother). And that's where the ride of Colton's life begins. He meets a new girl. Her father will kill Colton if he doesn't do the right thing. She's deaf. She's a DJ. She needs Colton's help to win money despite her father being super rich and super difficult. There is a bevy of hilarious and touching moments that bring the hero and the heroine together, all of which are the reasons you never let your 17-year-old go away on his own.
Delgadillo, a parent himself, likes to push the envelope, and he readily admits it. But like most people realize, this is fiction, and it's supposed to make us laugh and love the characters even more. Great success from my point of view. I loved watching the relationship develop between Colton and Alex, even when she rebuffs him or her father tries to kill him. Colton is smart, and he knows when to retreat, but does he always listen? No! Did he get back on a plane to Texas? No! Instead, he rushes after her… so you gotta give the boy epic points for trying. At 17, I'd never been on a plane, so kudos to him for showing us how it could and should be done at times.
I'm not a frequent YA reader, but I have read at least 25 to 30 books of similar variety. Each has its own way of capturing the character through dialog and action. Colton makes mistakes, and he knows it. He's adorable, but not perfect. He takes the ribbing from his 10-year-old sister showing up he can be a man and be vulnerable at the same time. He talks really fast around girls, and often mis-translates Spanish to say or think the wrong thing. Gotta love him for that. What set this apart for me is that multi-cultural approach, the diversity among the characters, the non-traditional plot of how the boy or girl goes after the boy or girl, and the danger they actually face.
Delgadillo tugged at my heartstrings at several points in the story. I laughed out loud a few times, too. In the end, I really liked Colton and would want to be friends with him — if I were a few years younger and he was a few years older. The DJ scenes, the transportation scenes, and the tender moments showed the author's passion for writing and ability to research and build a setting that readers will connect with.
I'm keen to read another of Delgadillo's works, as he always presents formidable yet touching characters whom you want to see succeed — only after a few complex obstacles have been tossed in their path, of course. And this author knows how to do that with a fine line of reality and super-charged "oh no he didn't" moments!
View all my reviews
In the history of titles, has there ever been something more appealing than Bacon Pie? I can only imagine the hilarity and the food consumption that must have occurred when Candace Robinson and Gerardo Delgadillo focused on proposing potential titles. For me, bacon and pie are delicious thoughts… but putting them together? Wow, I'm not sure how that would taste, but it certainly captured my attention. Both the title and the book… now let's get into the real review.
Let's start with the basics of how I chose this young adult contemporary fiction novel published just a few short months ago. I'd seen it advertised on many social media platforms and I followed one of the authors blogs, but I didn't jump on the initial bandwagon only because my backlog of TBRs, ARCs and other book OCDs had to be sorted and cleaned. I finished that grandiose task right before vacation and took this delight with me to Italy. I devoured it in less than 4 hours between a train ride from Amalfi to Tuscany and an afternoon sitting near the Arno river banks in Siena. What a perfect way to enjoy 'la dolce vita' while reading a touching, comical, and thoroughly engaging book.
The story is told through the multiple perspectives of a mid-to-late teenage groups of friends in a typical high school setting; however, it's not your standard 'jocks versus nerds' or 'life is hard as a teenager' coming-of-age story. It's much stronger… there's a ton of family dynamics, old rivalries, crushes, and emotion built into a backdrop full of diversity and wit. Between Spanish translations and conversations with armadillos, I can't decide which character I love the most… or which love story is the most endearing and reflective. All of the characters are charming, even when they're misbehaving or doing something foolish. Their relationships with their parents echo beautiful sentiments, but also show a tougher side of why we all 'loathe our parents' from time to time in that age range. Kudos to the authors for bringing out both sides of the puzzle it is to be a hormonal teenager with a chip on our shoulder but also a need to be loved.
And let's talk about that concept: authors… plural. Yes, it's a co-written book. I know from first-hand experience how difficult it can be to write one on your own, and while the thought of someone taking on half the work seems easier, I know it's probably harder than to do it on your own. Merging styles, voices, and patterns. Keeping facts straight. Disagreeing on direction or tone. But never did I see anything in the novel where I thought… 'hmm, this feels different.' What a great way to produce a truly a solid book that will entertain all types of readers and bring tons of smiles to their faces.
What I love most about this book is how it's a finely balanced tale showcasing a few weeks to months in a mixed group of teens without trying to teach huge moral lessons or be more than it needs to be. It's a beautiful story, leaves you with a lasting impression, shows you the different sides of life with alternative families, and gives you plenty to think about in a subtle manner. I'm really glad I took this book on and can't wait to read anything else they collaborate on together, or they publish on their own. What's even more fantastic is that the authors have placed the Kindle version of this book on sale for a limited time… download today via this link on Amazon for only .99 cents! You won't be disappointed and will probably want to pick it up again soon for another read.
For those who like to get to know their authors better, be sure to check out their profiles on Goodreads via the links above. You can also find them on Instagram and Twitter via @literarydust and @Gero_Delgadillo. They both have great blogs which you can find thru their profiles on these sites. I've given them each a dedicated page on my blog, too, so stay tunes for more as I read future books they've written independently or together. I highly recommend taking a chance on this one!
About Me
For those new to me or my reviews… here's the scoop: I'm Jay, an author who lives in NYC. My novels, Watching Glass Shatter and Father Figure, can be purchased on Amazon as electronic copies or physical copies. I write A LOT. I read A LOT. And now I blog A LOT. First the book review goes on Goodreads, and then I send it on over to my WordPress blog at https://thisismytruthnow.com, where you'll find the revealing and introspective 365 Daily Challenge – words and humor. You can also find all my social media profiles to get the details on the who/what/when/where and my pictures. Leave a comment and let me know what you think. Thanks for stopping by. Note: All written content is my original creation and copyrighted to me, but the graphics and images were linked from other sites and belong to them. Many thanks to their original creators. Follow my blog with Bloglovin.
I'm heading out of the country for a few weeks this month… I've been a good reader and clearing off many of the books I already owned or downloaded from my TBR shelf. I thought I deserved a reward this week, so I bought six (6) new books — all from bloggers I've been following for months. I really like reading my fellow author's works especially when we've been chatting for a long enough time. I also balance it with reading works from fellow authors at Creativia, my publisher. Between those books, ARCs, favorite series and authors I love, the monthly Book Bucket List, and other random reads, it's always a fun way to choose my books and/or see what I'll be reading!
When I planned my May TBR, I only included 7 books as I wasn't sure what I might read while on vacation. I finished the sixth book today and plan to read the seventh one in the next three days before I leave town. While I'm away, I'll have plenty of options to choose from on my Kindle Reader… how exciting! Some I've saved for when I return to NYC (like my buddy read with Dani in mid-June for Didi's book), but I wanted to throw a little shout out to these amazing bloggers and authors beforehand. Thanks for writing what I expect to be fantastic books, all of which I'll devour in the next month. I can't wait to dig into them…. and in June, I'll figure out what my next set of purchases from fellow bloggers and authors we all know.
Below is a link to all of these authors' blogs
So… if you don't see many posts or comments from me this month, it's just that I'm on vacation, away at a conference, and meeting up with a few other bloggers (Claire and a few who shall remain nameless for a bit longer). I'll try to respond as much as I can, but I plan to get a break and catch up when I return on anything I missed in the blogosphere. And the best part… when I'm back, the BLOG TOUR for my second novel's release, FATHER FIGURE, begins on June 4th and is being hosted by Shannon @ Reads & Reels.