happy
Life begins with the concept of motherhood. The terms are virtually inseparable as you can't have one without the other under most conditions in the human world. And while mothers come in all different forms, today is the day to celebrate them no matter how they're part of our lives. Whether it's our own mothers, grandmothers, godmothers, stepmothers, mothers-in-law, or someone in our family or circle of friends, we all know one or many who have unbelievably touched us for the better.
My own mother is a prime example, and while she doesn't follow my blog (she's not online often), someone I know — I'm sure — will tell her about this post. And when they do, they will tell her that I think she's undoubtedly the most generous, wonderful, and caring woman in my life. She's done everything she could for me throughout the years and I'll be eternally grateful. From wisdom to gently knocking me upside the head (figuratively) when I needed to get back on course, my mother is a genuine and amazing role model. Thank you to her for everything I've become, as it wouldn't have happened with you.
My mother is not the only woman out there who fits into this description. Perhaps you're one of them. Or you know someone who is. Tell them you love them. Let them know how amazing they are. And so… to all of you who fit this description, you are amazing. I'm glad we're connected via our blogs, social media, or texting… whatever the form of our communication: Thank you for being part of my life.
***
As a quick aside, motherhood in my first two books is pretty core when it comes to the central theme. Whether it's Olivia in Watching Glass Shatter trying to reassemble her family after a devastating accident, Amalia learning what it means to have a mother who abuses you in Father Figure, or any of the supporting characters trying to figure out their relationships… women like Janet, Molly, Diane, Sarah, or Margaret, these women all share one thing in common: they are mothers in some way, shape, or form to people around them. It's in this relationship I find the beauty and energy of love, pain, emotions, and selfless choices. And that's why it's always something close to my heart and front-n-center in my books. I choose to celebrate motherhood however I can.
Thanksgiving: today's holiday where we give thanks in the US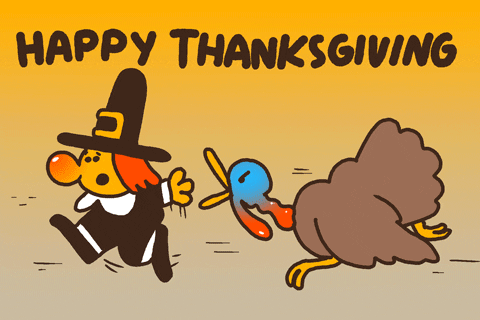 Happy Thanksgiving to everyone. In today's post, I am listing the top 10 things I am grateful for today (in no particular order):
Health
Freedom
Family
Friends
Safety
Home
Ryder
Books
Food
YOU
About Me & the "365 Daily Challenge"
I'm Jay, an author who lives in NYC. My debut novel, Watching Glass Shatter, can be purchased on Amazon @ http://mybook.to/WGS. I've always been a reader. And now I'm a daily blogger. I decided to start my own version of the "365 Daily Challenge" where since March 13, 2017, I've posted a characteristic either I currently embody or one I'd like to embody in the future. 365 days of reflection to discover who I am and what I want out of life.
The goal: Knowledge. Acceptance. Understanding. Optimization. Happiness. Help. For myself. For others. And if all else fails, humor. When I'm finished in one year, I hope to have more answers about the future and what I will do with the remainder of my life. All aspects to be considered. It's not just about a career, hobbies, residence, activities, efforts, et al. It's meant to be a comprehensive study and reflection from an ordinary man. Not a doctor. Not a therapist. Not a friend. Not an encyclopedia full of prior research. Just pure thought, a blogged journal with true honesty.
Join the fun and read a new post each day, or check out my book reviews, TV/Film reviews or favorite vacation spots. And feel free to like, rate, comment or take the poll for each post. Note: All written content is my original creation and copyrighted to me, but the graphics and images were linked from other sites and belong to them. Many thanks to their original creators.